Lions Club Student of the Month: Heather Hall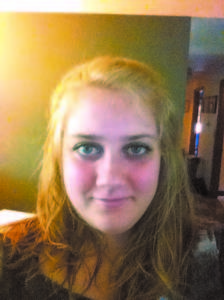 Heather Hall of Sebago has been selected as the area Lions Clubs' "Student of the Month" for October.
Each month, area Lions Clubs recognize a Lake Region High School senior who has excelled academically. The recipient is honored at a Lions' dinner meeting and is presented a monetary award.
Name: Heather Hall
Class of: 2014
Residence: Sebago
Parents: Karen Wiles, Kevin Hall
Siblings: Ben Wiles, Josh Hall
Activities: LRHS Concert Band, LRHS Jazz Choir, Portland Youth Wind Ensemble, LRHS Skazz Cats, LRHS Choir, LRHS Drama Pit Band.
Community activities: Socializing cats/kittens at Harvest Hills Animal Shelter.
Hobbies: Playing my instrument, singing, and playing video games with my boyfriend.
Future plans: I am hoping to go to the University of Maine at Orono to major in Accounting and/or Finance.
Schools that you have or will apply to: University of Maine Orono, University of Southern Maine, Thomas College, University of New Hampshire, Hofstra University and Champlain College.
What is your favorite class? My favorite class would have to be Principles of Microeconomics class that I am taking online through University of Maine at Orono. I really like this class because it's online, which means I can work at my own pace, but I also know that if I have questions I can contact my professor or the teacher's assistants and they will get back to me.
What is your toughest class? I would have to say my toughest class is my college algebra class, simply because we have a lot of content to cover in a very short amount of time, and it's hard to remember all of the different concepts at once.
How do you balance your class work and your extracurricular activities? I plan ahead. If I know I'm going to have a lot going on in the near future, I make sure I get as much work done before hand as I can. For instance, Thursday, Oct. 24, I had a full day of school (four classes), my interview with the Lions Club, District 2 auditions in Portland, and my college math class at the Vocational Center. I knew I wouldn't have any time that day to do anything due on Friday, so I made sure I did the work on Wednesday.
What is the biggest challenge high school students' face today? I don't know about others, but for me and my friends, it's the lack of sleep. We are all in honors, AP (advanced placement), and/or college classes, so we have a lot of homework every night, but we also all have things going on after school. They are part of the play/musical, and I have class on Tuesdays, band rehearsal on Wednesdays, and class on Thursdays. It's hard, but we all somehow make it through the year.
Who has inspired you educationally? I don't know that a specific person has inspired me educationally, but I know the prospect of being a student at the University of Maine at Orono has. I have gone to the Maine Summer Youth Music camp in Orono for five years now, and I have fallen in love with the campus and the people there. Each time I go to the campus, I get even more excited thinking about living there, and being a part of that community. Knowing that I am almost done with high school and I have a really good chance of being accepted to UMO has inspired me continue studying as hard as I am, and to push myself even more.
Please follow and like us: