Leslie R. Pinkham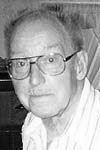 CASCO — Leslie Raymond Pinkham, 90, passed away peacefully in his home on Dec. 29, 2011 surrounded by his loving family.
He was born on Sept. 22, 1921 in Freeman, a son of Raymond M. Pinkham and Madeline R. (Lawton) Pinkham.
While in high school, Leslie worked as a woodsman. Graduating from Strong High School, Les went on to trade school in Dexter. He became a First Class machinist toolmaker and went to work for Forster Manufacturing Co. Les enlisted in the U.S. Marine Corp., serving as a fighter pilot aboard the aircraft carrier USS Salerno Bay in the Pacific during WWII.
While serving, Les met and fell in love with Mary Frances "Nancy" Starnes of Walnut Ridge, Ark. They married in Las Vegas on Feb. 9, 1945. At war's end, Les and Nancy lived in Strong.
In 1960, the Pinkham family moved to Bridgton, where Les worked as a machinist at Dielectric for over 10 years. In 1968, Les and Nancy moved to Casco, where he worked for Shively Labs before moving on to Yankee Machine. He retired at the age of 68 with "0" sick days taken.
Nancy, his wife of 47 years, passed away in 1992.
As an avid outdoorsman, Les loved to hunt and fish. He thoroughly enjoyed sharing these interests with his children and grandchildren. Les enjoyed many seasons hunting, fishing and camping with his family.
He was a proud member of the American Legion, National Rifle Association and the Masons.
In his retirement years, Les also enjoyed gardening, mowing his lawn and playing cards and cribbage at the local "meal site" and the VFW.
Les also took ballroom dance lessons at age 75 and was quite smooth on the dance floor. He was a man of honor, patriotic and was always a gentleman.
In April 2011, he was predeceased by his sister Eleanor Hinkley, also age 90.
Surviving are, son Roger Pinkham of Spring, Texas; son David Pinkham of Bridgton; daughters Linda Cross, of Sarasota, Fla. and Kathie Peterson of Naples; 16 grandchildren and nine great-grandchildren.
Visiting hours were held from 6 to 8 p.m. on Tuesday at Hall Funeral Home, 165 Quaker Ridge Road, Casco, where a funeral was held at 1 p.m. Wednesday.
In lieu of flowers, please send donations to the Casco Meal Site, P.O. Box 60, Casco, ME 04015.
Please follow and like us: