Leonidas A. Tardif Sr.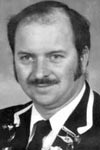 LEWISTON — Leonidas A. Tardif Sr., 71, of Lewiston died Tuesday, April 5, 2011 at d'Youville Pavilion with his family by his side following a long illness.
He was born in Lewiston on July 11, 1939, the son of Elphege and Loretta (Belanger) Tardif.
After high school, he entered the U.S. Marine Corps for several years. He worked at Seabrook, Maine Yankee and Jay paper mill, and ultimately for more than 20 years at Bath Iron Works as a shipbuilder.
He was a very active member and past president of the ACME Snowshoe Club, Franco American War Veterans and AmVets Post 33 of Jay.
He enjoyed dancing and traveling to Canada for family gatherings. He enjoyed going out to eat at local restaurants.
He is survived by his wife, the former Nancy Nadeau of Lewiston, whom he married on June 28, 1980; four sons, Alfred of Jay, Leonidas Jr. of Adam Center, N.Y., Shawn of Stanton, Vt., and Clifton Tardif of Piedmont, Okla.; three stepsons, Rodney of Waterford, Alfred of Lewiston and Michael Pownall of Oxford; siblings Eugene, Roland, Reginald Tardif, all of Jay, Elaine Melcher of Jay, Doris Horne of New Gloucester and Elphege Tardif Jr. of Wilton; five grandchildren; three step-grandchildren; and 10 great-grandchildren.
Online condolences and sharing of memories may be expressed at www.lynchbrothers.com
A memorial service with full military honors was held on Saturday at the funeral home. Burial will be at a later date at Gracelawn Memorial Park.
Donations accepted in lieu of flowers to the family.
Arrangements by the Pinette & Lynch Funeral Home & Cremation Services, 305 Alfred A. Plourde Parkway, Lewiston.
Please follow and like us: