Lending library binds Girl Scout to town
By Dawn De Busk
Staff Writer
NAPLES — When Rebecca Caron went to visit her aunts in Michigan last summer, she noticed that a short distance from both of their homes was a lending library kiosk.
She wondered why Naples didn't have such a service. Later, that question turned into a year-long project to create a little lending library for her hometown.
As a way to earn her Girl Scout Silver Award, Caron took on the many tasks involved in making the lending library a reality.
On the afternoon of Friday, Aug. 24, at Kent's Landing, Caron was beaming as she held the honorary scissors and cut the ribbon tied across the kiosk that she had designed and constructed.
"The ribbon-cutting ceremony was fun. That was not a lot of work for me. It was me saying, 'I am done,' " Caron said.
Caron logged 55 hours of work to get to that point in time, the ribbon-cutting ceremony.
When Caron completed her project, she had improved her time management skills, reduced her fear of public speaking, gained a comprehensive set of carpentry skills, and established a lending library that will continue to exist in her community long after she leaves for college in four years — all of which bolstered her self-esteem.
"I am pretty proud that I made something as a 14-year old that is going to be there for 10 or 20 years. That is really cool. It is cool to say, 'I did that,'" she said. "People might be walking down the sidewalk and talking about the lending library or using the lending library, and I can think to myself, 'I made that.'"
Caron, who is a freshman at Lake Region High School this year, belongs to Troop 1964. In September, she will bridge from a Cadette to a Senior Girl Scout.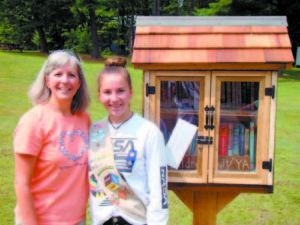 As a Cadette, Girl Scouts can earn the Silver Award by choosing a project that will have a lasting impact on the community. The project must be approved by the Girl Scouts of Maine's program manager. After filling out extensive paperwork and turning it over to GSME, it takes four weeks to get approved.
The Silver Award is something that a Girl Scout does alone, and not with other members of her troop. One of the requirements is that the project requires 50 hours of work.
Caron reflected on what she had learned while earning her Silver Award.
"I got much better at time management. When I started, it was before my 8th grade year started and I was already busy with school work and sports, too," she said. "It was challenging to find time during my 8th grade year."
"I had to manage my time wisely, not just my time, but the time of the people who were helping me do it," she said.
Self-employed contractor Jeff Edwards taught Caron how to construct the kiosk she had designed. Naples Public Library Director Dani Longley was the project advisor.
Caron said her leadership skills were put to the test, too.
"It was my first big project, and I was in charge of everything," she said.
Early on, deciding what exactly to do for her Silver Award was a bit of hurdle.
"July of last year was when I solidified on an idea. I came up with a lot of ideas. I thought about it for a really long time. Then, I set my mind on the lending library. I really wanted to do it," Caron said.
After all, Caron adores books and understands the need to read.
"Do I like books? I have two floor-to-ceiling bookshelves in my bedroom — if that tells you how much I love books," she said.
Carpentry skills are something she believes will come in handy in the future.
"I learned how to use a table saw. That was quite interesting. I learned how to use a nail gun. I don't like nail guns. So, that was kind of scary," she said.
"Most of it was new to me. Using the power tools was new to me. Some skills I knew how to do from the tech shop at" Lake Region Middle School, she said.
"I did a lot of finishing touches: putting screws in, sanding the wood. I used almost an entire can of clear varnish. I think it was seven or eight coats of varnish," she said.
Caron was tasked with logging the hours she worked as well as creating a budget for the project.
In addition to the paperwork that builds on administrative skills, Caron faced the prospect of public speaking. She needed to go before the Naples Board of Selectmen to ask permission to put the lending library on town-owned land, Kent's Landing.
"I don't usually like public speaking. I try to avoid it.
So, I was thinking of all the ways to avoid it. Could I write a letter? There is no way I can avoid it. Just do it," she said. "I daresay I fear public speaking a lot less now."
The Naples Public Library has a hand in helping Caron to coordinate a book club that will help to keep the lending library going for future years.
"I left a guest book inside the library. I left an e-mail address so people can contact me if they want to be part of the book club," she said.
Please follow and like us: