LEA installs new high-tech buoy on Long Lake
Lakes Environmental Association staff last Friday installed a Global Lake Ecology Observation Network (GLEON) remote sensing buoy in the North basin of Long Lake off Lakeside Pines Campground.
The buoy is the second to be deployed by LEA in an effort to gather significant data and better understand how vulnerable our lakes are to algae blooms.
The new buoy will measure chlorophyll at three different depths in the upper, warm waters where algae grow. Chlorophyl is the green pigment found in algae. There are also oxygen and temperature sensors at five depths to track how the lake is stratified and how much oxygen is present in the lake's waters. LEA plans to expand the number and types of sensors in the future.
GLEON buoys are part of an international lake research network. They operate on solar power and send sensor readings to LEA by cell phone signal every fifteen minutes. LEA now has the capability of taking thousands of readings over the course of the open water season, adding valuable data to their water quality research program.
The Highland Lake buoy is in its third season and data from its attached instruments is available live on LEA's website at www.mainelakes.org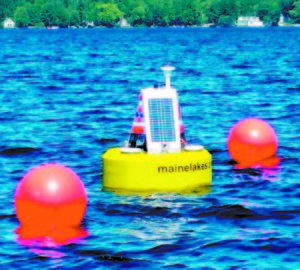 Funding for the buoy came from an anonymous family foundation and landowners on Long Lake, including a lead gift in memory of Joseph Wikler. LEA will be fundraising this summer and fall to install additional sensors so that the entire water column can be monitored.
LEA was able to safely and efficiently install the new buoy thanks to a custom-designed and fabricated pontoon boat donated by Great Northern Docks.
Contributions to the GLEON Buoy Fund for Long Lake can be sent to LEA at 230 Main Street in Bridgton.
Please follow and like us: