Lawrence W. McAllister
NORWAY — Lawrence W. "Gus" McAllister of Waterford passed away on Saturday, Feb. 5, 2011 at the Norway Rehabilitation Center surrounded by his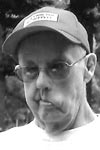 family.
He was born at Stoneham on Oct. 27, 1925, to Winfield I. and Edith (Crouse) McAllister, the oldest of five children. He was educated in Waterford schools.
On Aug. 27, 1954, he married Pauline Hosmer.
Lawrence worked for R. K. Brown as a truck driver for many years. During that time, he helped maintain the roads in Waterford, Albany and Sweden during the winter and also worked building the road for the Earth Station at Andover. In addition, he worked for Cianbro Corporation, and retired from Pike Industries.
Lawrence and Pauline moved from the village of North Waterford to Jewitt Pond in 1966. They loved their life at Jewitt Pond and made many friends. Lawrence loved to "putter" around, and was always busy. The "camp," as it was called, was the scene of many happy get-togethers and family celebrations. Lawrence and Pauline loved the outdoors, enjoying fishing and camping in the Jackman area and the North Maine Woods. Lawrence courageously took care of Pauline over the last several years, and he lived at home until late January of this year.
He is survived by his children, Jeffrey McAllister of Boise, Idaho, Carol Miller of Sweden, Vicki Millett of Norway and Paul McAllister of North Waterford; his four grandchildren, whom he loved dearly; and many nieces and nephews.
He was predeceased by his mother and father; his brothers, Irving, Erlon and Eugene; a sister, Celia (Sue) Littlefield; and his loving wife of 56 years, Pauline, who passed away in December 2010.
Online condolences may be expressed to the family at www.oxfordhillsfuneralservices.com.
At his request, there will be no formal services. A celebration of Lawrence's and Pauline's lives will be held at a later date for family and friends. Arrangements under the care of Oxford Hills and Weston Funeral Services, 1037 Main Street, Route 26, Oxford.
Please follow and like us: