Lawrence Dunn
DENMARK — Lawrence 'Larry" Dunn passed away peacefully at The Hospice House in Auburn, Maine on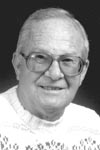 Friday, March 25th, after several weeks of declining health. Larry is the son of Richard and Etta Dunn. He was born in December 1926 in Denmark, Maine. He graduated from Deering High School in Portland, Maine. Larry received a double major degree from the University of Maine in Orono in Electrical and Chemical Engineering. He was awarded a medal of Good Conduct in the Army during World War II as a Sergeant and worked as a correspondent and a rifle instructor.
Larry married Peggy Anne Mack in 1952, he then returned to college and received a master's in Education at Orono He taught Science at Pennel Institute in Gray, Maine and then moved his family to Duxbury (Mass.) and taught for 25 years at Duxbury High School and became the Head of the Math Department. In 1962 he started Pleasant Mountain Camping Area in Denmark, Maine. After retiring from teaching Larry worked at Disney World in Orlando, Fla. for 15 years. He was well liked and respected by his colleagues. Working as a train conductor was his favorite role and he was known as "Jungle Larry." He was a dedicated volunteer at the hospital in Saint Cloud, Fla. and Bridgton, Maine. His homemade rhubarb and pumpkins pies will be missed by his family and at local events.
Larry, Dad, Pop Pop, friend, mentor is survived by his son Eric Dunn and daughter-in-law Rena of Yarmouth, and daughter Katie Dunn and son-in-law Rick Mason of Denmark. He loved and cherished his grandchildren, Kalie and Lauren Dunn, and Emma and Fergus Mason.
The family extends their heartfelt gratitude to the Denmark Church Congregation and the Androscoggin Hospice House. Please send donations to Denmark Congregational Church, PO Box 816, Denmark, ME 04022, or The Androscoggin County Hospice House, 236 Stetson Rd., Auburn, ME 04210. All are welcome to share their thoughts and memories at www.legacy.com
A Service will be held at The Denmark Congregational Church, 70 East Main Street, Denmark, Maine on April 2nd at 2 p.m., with a burial service to be held in May.
Please follow and like us: