Lace'm up this summer! Plenty of area road races
July 4: 4 On The Fourth, Bridgton
If you planned to run in the 38th annual 4 On The Fourth in Bridgton but have yet to register, you're out of luck.
As of Wednesday morning, Race Director Jim Cossey said just 50 bibs remained to be sold. By 11:30 a.m., Cossey contacted The News reporting all remaining bibs had been sold, thus closing registration. The race field is capped at 2,100. Check the website at www.fouronthefourth.com for the latest news.
The race begins at 8 a.m. on Friday, July 4, on Main Street, near Food City.
July 9: Run by the Lake 5K
The 12th Annual Run by the Lake 5K, part of the Harrison Old Home Days festivities, will take place on Wednesday, July 9 at 7 p.m., rain or shine. The Town of Harrison Parks and Recreation Department is once again putting on this amazing event to benefit many year-round Pre-K through senior citizen special activities.
Cost is $18 ($3 off for Harrison residents). The out-and-back course is along Route 117.
Free t-shirts to the first 100 pre-registered racers! Registration forms can be found at the Harrison Town Office and local area stores/libraries (or you can download it from the Town of Harrison website). These can be turned in at the town office. Register online at the Town of Harrison website:www.harrisonmaine.org under "Recreation", "5K", and see link to www.running4free.com
The event also includes a new "Superhero Half-Mile Dash."The dash will take place at 5 p.m. at the Harrison Town Office (20 Front Street) before the 12th Annual 5K Run By the Lake. Children between the ages of 2-10 can participate. The mission: a half-mile dash along back streets in downtown Harrison. The theme: dress as your favorite superhero and be empowered to dash through the finish line! Free t-shirts to the first 25 registered superheroes. Registration: $10 per superhero ($8 for each additional superhero from the same family).
July 19: Old Home Days 5K, Lovell
The 10th Annual Lovell Old Home Days 5K Run will be held on Saturday, July 19, at 9:45 a.m. Runners race through Lovell Village toward the Athletic Field.
The first 100 registered runners will receive a commemorative t-shirt designed by Fryeburg Academy student Alison Upton while the top male and female finishers receive an award designed by Conway glassblower Nathan Macomber. Other prizes will be given to winners of various age groups. Poland Spring is providing water for runners on the course and at the finish line where there will be refreshments and random prizes.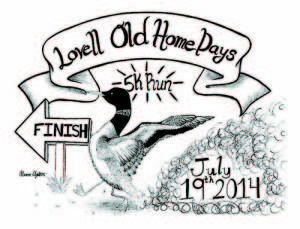 Timing is provided by 5k Sports Race Management of Portland.
Proceeds benefit the Lovell Recreation Department and the Old Home Days Parade.
The popular Lollipop Youth Race kicks off the day's activities.
Prior to July 12, the entry fee is $13 and then $18 through race day. Runners may register online at www.Running4free.com or download an entry form at www.lovell5k.com. Contact Race Director Stan Tupaj at 925-1500 or stan@fairpoint.net.
July 19: Sebago Days Fun Walk/Run
The Sebago Days 2 Mile Family Fun Walk/Run will take place on Saturday, July 19 at 8 a.m.
The day opens with a Toddler 50-Yard Dash at 7:55 a.m. There is no fee for the dash.
Race entry is $10. For a registration form, either stop by Jordan's Store in East Sebago or contact Race Directors Marie and Jeff Cutting by e-mail at cutfam5@roadrunner.com or call 787-3819.
Registration on the day of the event: 7 to 7:45 a.m. at the start line located at the intersection of Routes 114 and 11 across from Sebago Elementary School.
The two-mile course is an out-and-back on Route 11. T-shirts go to the first 75 pre-registered entrants. T-shirt sizes may be limited so pre-register early for best selection.
Medals awarded in the following male and female categories: overall, 10 and under, 11-13, 14-17, 18-29, 30-39, 40-49, 50-59, 60 and over.
July 26: Casco Day Country Run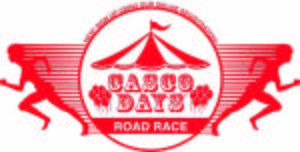 The 36th Annual Casco Day Country Run four-miler will be held on Saturday, July 26 at 9:30 a.m. The race is sponsored by the Casco Fire Association.
Registration will be taken the day of the race between 7:30 and 8:30 a.m. at the Casco Community Center on Route 121 in Casco Village. All contestants are required to check in at registration prior to the start of the race, even if they are pre-registered. The first 250 pre-registrants will receive a Casco Days Road Race t-shirt. Please note you must register before July 21 in order to ensure receiving a t-shirt. Cost is $18 before July 21 and $23 after July 21 to race day. Register online at www.cascodays.com
The Casco Days Road Race will be timed by Granite State Race Services with the Champion Chip timing system. A starting signal will begin your time and it will immediately end as you cross the finish line. You will receive disposable timing device on the back of your bib number or when you register the morning of the race. In order to ensure proper timing of your run your bib must be placed on your clothing according to the instructions included in your registration packet.
Awards will be given to the top two female and male race winners, and to all category winners and runners-up. Age groups:
 13 and under, 14-19, 20-29, 30-39, 40-49, 50-59, 60-69, 70-plus. Camp categories (only area campers are eligible):
13 and under, 14-16.
August 9: Glow For It 5K, Bridgton
The North Bridgton Library will hold its Second Annual Glow For It! 5K and one mile walk on Saturday, Aug. 9 at 8 p.m.
This is a nighttime glow in the dark run/walk with a family friendly After Glow Party with a DJ and dancing. Early bird registration runs through July 21. For only $30 runners/walkers will receive a t-shirt, glow necklace and bracelets and free entry into the After Glow Party. Form a team and you could get free entry. Form the largest team and get prizes and a trophy.
Check out the website at glowforit.org for more information.
September 20: Loon Echo Trek

The Loon Echo Trek is only three months away, and if you or your hiking/cycling buddies are looking for a beautiful ride or hike, this is the event for you.
Touted as the toughest century in Maine, the Trek scheduled for Saturday, Sept. 20 beginning at Shawnee Peak Ski Area in West Bridgton offers so much more than that. You can also choose the 25 or 50 mile rides or try the new 75-mile ride. Prefer spending a beautiful September day hiking? Do a 4.5 or six-mile hikes over Pleasant Mountain. New this year is the Hike and Bike, an opportunity to enjoy both cycling and hiking.
All Treks are supported throughout the course with energy boosting foods, and participants are welcomed back to the base of Shawnee Peak for a delicious barbecue meal from Blizzards Pub, rejuvenating massages offered by Freedom Day Spa and thirst-quenching Allagash beer! Visit www.loonechotrek.org and register today.
September 27: O2X Summit Challenge
Some say the summit is its own reward. Others say a little cash makes it sweeter.
The O2X Summit Challenge — a mountain running experience that blends trail running and creative natural challenges with a summit finish — today announced the details of its 2014 Northeast Point Series, including $1,000 prizes to the top annual point winners for men and women, and $1,500 to be divided by the top finishers at Sunday River in Newry on Saturday, Sept. 27.
In addition to the Sunday River event, venues in the 2014 O2X Summit Challenge series include Sugarbush, Vermont (Sept. 13), Loon Mountain, N.H. (Oct. 18) and Windham, N.Y. (Oct. 25).
O2X Summit Challenge courses are rated on a unique Diamond Grading System. Single Diamond routes gain at least 1,000 net vertical feet over at least four miles, and Double Diamond routes gain at least 2,000 vertical feet over up to eight miles. All courses will blend single-track trails, double-track dirt roads, glades, rock scrambles and open slopes.
In the overall 2014 O2X Northeast Point Series, racers will accumulate points for any top 20 finish. Single Diamond course winners will receive 100 points, with points scaling down evenly to 5 points for 20th place. Double Diamond course winners will receive 200 points, with points scaling down evenly to 10 points for 20th place. The highest male and female point totals at the end of the 2014 race calendar will each be awarded a cash prize of $1000.
At each individual race venue, men's and women's Single Diamond course winners will win $250 each. Double Diamond course winners will take home $500 each. Additional award categories at each race venue includes: age category winners; team winners; and the fastest time through a spotlight feature of the course. A special "Rise Beyond" award will also be given for the most inspiring participant story (may be nominated by racers or spectators).
The O2X registration fee of $120 per event includes parking, insurance, processing fees and bag drop. Racers who sign up for four 2014 races, will gain free entry to any single race in 2015. Camping is the sole option, with a $60/night charge for a four-person tent rental ($15/camper), or a $30/night charge for campsite only. To register, please visit www.O2X.com
Please follow and like us: