Kenneth H. Brown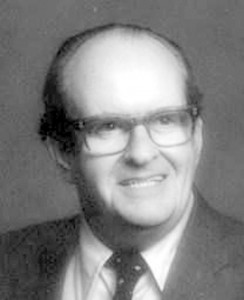 SCARBOROUGH — Kenneth Harold Brown, 91, of Freeport, died on Tuesday, Aug. 21, 2012, at the Maine Veterans' Home in Scarborough.
He was born on July 1, 1921 in Pownal, the second son of Louise (Varney) and Edgar Brown Sr. He was educated in local schools and graduated from Freeport High School.
During WWII, he served in the U.S. Army and during the Battle of the Bulge he was captured as a prisoner of war and held in Stalag 9A and B. Fifty-five years later, he had the opportunity to attend a POW reunion in Pennsylvania and was reunited with his bunkmate.
Ken was a hand sewer for several Freeport shoe companies. His shoes were often used as samples by the sales team. He retired from L.L. Bean after 14 years in the Distribution Center.
Ken was a great New England sports fan, coached baseball, helped with the basketball boosters club and served as the basketball scorekeeper for many years. He was a staunch Republican — nothing more needs to be said.
Ken took great pleasure in his time spent with his family, be it playing UNO — a staple family game — summer family vacations at Little Sebago Lake, lunch with his wife, Dot, or any time spent with his grandchildren and great-grandchildren. Ken and Dot never missed an opportunity to mark a special family occasion. Ken's love for his family could always be seen in his distinctive smile.
Ken is survived by his daughter, Adena Stewart of Raymond; his sons, Frederick "Bruce" Brown and Richard "Dick" Brown of Freeport; his two granddaughters and grandson; his two great-granddaughters and a great-grandson; his brother, Edgar Brown of Bangor; and his sister, Marilyn Groves of Freeport.
He was predeceased by his wife Dot in 2009; his brother, Gerald Brown; and his sisters, Claudia Pooter and Phyllis Rufus.
Visiting hours were held on Friday, Aug. 24, at Lindquist Funeral Home, One Mayberry Lane, Yarmouth. A funeral service was held at the funeral home on Saturday, Aug. 25, with the Rev. Sandy Williams officiating. Burial followed in Burr Cemetery in Freeport. Please visit www.lindquistfuneralhome.com to view a video collage of Ken's life and to share your condolences, memories and tributes with his family.
For those who wish, donations may be made in Ken's memory to a special fund for veterans without money at: Department of Veterans Affairs Center, Veterans Affairs Voluntary Service #135, 1 VA Center, Augusta, ME 04330.
Please follow and like us: