Kelby L. Day, 39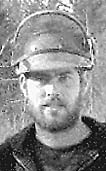 OTISFIELD — Kelby L. Day, 39, of Otisfield died Tuesday, Nov. 12, 2013, after several surgeries and deteriorating health.
He was born in Norway on July 31, 1974, the son of Stephen R. and Charlene Korhonen Day. He graduated from Oxford Hills High School. He was a certified logger, cofounder, owner and operator of Day Brothers. He enjoyed raising sheep, spending time with his family and hitting the river on a hot afternoon. He loved brook fishing with his son and he was very supportive of his daughter's involvement in cheerleading. He had an infectious smile, a way of making people laugh. He was a huge presence and lived life to the fullest.
He is survived by his parents; twin brother, Sewell Day; his brother Ralph Day; his sister, Marsha Day; his children, Lindsay Day and Logan Day; his grandmother, Winnifred Cleveland and her husband Ralph; two nephews; and four nieces. He was predeceased by his brother, Robert Day; his maternal grandfather Leo Korhonen; his paternal grandparents Ralph and Ola Day; and a true friend, Kerry Grover.
A celebration of his life will be held on Saturday, Nov. 23. at 1 p.m. at the Otisfield Community Hall, Route 121, Otisfield. Donations in his memory may be made to the Oxford Hills Technical School, Forestry Program, PO Box 313, Norway, ME 04268. Online condolences may be shared with his family at www.oxfordhillsfuneralservices.com
Arrangements are under the care of Oxford Hills Funeral Services, 1037 Main St., Oxford.
Please follow and like us: