"Keeper" of a moment: Fans flock to new book signing at Magic Lantern
By Gail Geraghty
Staff Writer
When Stephen King entered stage right at the Magic Lantern Theatre, taking his seat before a long table, the first small group of early birds to Sunday's book signing couldn't help themselves — they erupted with applause.
An awed silence ensued. King, a worldwide mega-celebrity, smiled and clasped his hands in front of him, and delivered a one-liner to break the spell.
"You're probably wondering why I called you all here today," said King.
They all knew, all right. He'd called them to give them the chance to get a signed copy of his latest book, Finders Keepers, the second in a trilogy based on characters developed in his acclaimed Mr. Mercedes.
As a longtime summer resident of Lovell with strong ties to Bridgton, Maine native King especially wanted to give back to local folks with whom he shares a special bond.
But because of who he is — arguably the most famous and best-selling writer of popular fiction alive today — the book signing also served as a magnet for King fans from all over the country. Event sponsor Bridgton Books sold out the 500 tickets available within a few days, once word got out on online Stephen King websites. Many who came said they planned their vacations around the event.
As a long line formed back from the theater entrance an hour before the signing, Magic Lantern co-owner Frank Howell walked its length, explaining to all what to expect.
"Have your tickets ready and an ID to check at the door," he said. "Mr. King wants to thank you and look you in the eye," but he won't be signing any of his other books, and he'll need to keep the line moving to sign all 500 books in the two hours allotted, Howell said. He explained that large purses and backpacks were not allowed, and helped several people in line by stowing bags until they'd been through the line.
Many people in line were grinning with intense excitement at the prospect of meeting face-to-face with King for the first time. An early person in line was Marie Terrano of Windham, who wore a bright red "Stephen King Rules" T-shirt. "I figured this would be the perfect opportunity" to see one of her most beloved authors, she said. "This was definitely on my bucket list."
Andrea Bergeron of Nashua, N.H. wore a fancy white dress to the event. "He's like this mentally-special magical person," she said. She and her friend showed off the tattoos on their arms with quotes from King's highly beloved Dark Tower series of fantasy novels. Both of them believe that King has a kind of psychic sixth sense in his ability to connect with the minds of his readers.
Inside the theater, Howell had extra staff on hand to usher attendees along, and provided free donuts and cold drinks at the concession stand. Ticket-holders were allowed to get out of the hot sun and sit in adjacent screening rooms until they were admitted in small groups to the Mayfair auditorium, where King was stationed.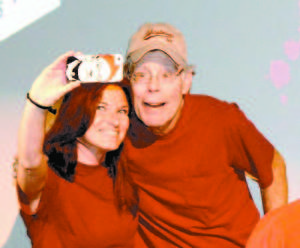 Bridgton Books co-owner Justin Ward had nothing but praise for the event hosting services provided by Howell and the Magic Lantern staff. Security precautions were taken to ensure King's safety, as many of his fans wanted the chance to speak to him or have a book signed as he was entering and leaving the event.
King kept up a friendly and cheerful banter with fans throughout the event. Sporting his usual attire of T-shirt, jeans and ballcap, he occasionally munched on movie popcorn and took sips from a big cup of Pepsi as copy after copy of Finders Keepers was passed to him for signing by Bridgton Books employees.
"Okay, I'm done," he joked, after signing only a handful of books. He took note of all the different T-shirts people were wearing, saying "I love T-shirts." As one woman passed by King, she told him, "I named my cat Penny, after Pennywise the Clown," in King's horror novel It.
Watching from the theater aisle, Magic Lantern employee Abbie Morrison of Harrison said she was amazed by the intensity of King's celebrity status.
"He's just another person on the street to us," she said. "I see him in Renys all the time. I can't believe people are coming from all over the world for this."
As the signing neared its end, King was still going strong. "Okay, now go out and enjoy the sunshine," he said. "Or better still, go enjoy a movie at the Magic Lantern."
Please follow and like us: