June M. Hamilton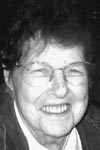 SOUTH PARIS — June M. Hamilton, 80, passed away on the morning of July 16, 2011 at Market Square Health Care Center in South Paris, with her three daughters by her side.
June was born on November 22, 1930. She grew up in Denmark, Maine, with twin sister Jane, brother Charlie, and her parents Raymond and Daisy Weeman. June was a talented artist who created the artwork for her senior yearbook. In 1950 she married a strapping young man named Donald Hamilton and shortly thereafter bought a farm in Denmark and started a family. They both enjoyed the outdoors and tending their gardens. June's three daughters recall her spending many Saturdays baking and canning vegetables. She was a fantastic cook. June was active in her community as a member of Eastern Star and a Girl Scout leader. She worked tirelessly to support her family, spending most of her working years in shoe factories and eventually semi-retiring from Sebago Moc at the age of 66. It was a major source of pride for her to see her children and grandchildren graduate from college.
June was a spirited, yet kind, woman who was loved by all that knew her. Her grandchildren would describe her as "the coolest," and she was often referred to as Grammy or Me Me, by the neighborhood kids, who flocked to her home.
June's family meant the world to her. Her favorite pastimes included soaking up the sun, going to yard sales, and reading. She loved the ocean and shared a fascination for Native American culture with her twin sister. They often read books on the subject and attended pow-wows.
June loved animals and doted on her cats, which included two Siamese.
June is survived by three daughters, Virginia Emmons and Lynn Paradis and husband Robert of Norway, and Dawn Cyr and husband Dennis of Oxford; eight grandchildren, Mary Ann Emmons, Michelle Clements, Jason Emmons, Nick Paradis, Scott Paradis, Kevin Benson, Kyra Darling and Cassie Portillo; and three great-grandchildren.
She was predeceased by her husband Donald, twin sister Jane Weeman, brothers Charlie Weeman and Everett Parsons.
Funeral services were held on Wednesday, July 20th at 1:00 p.m. at Oxford Hills and Weston Funeral Services, 1037 Main St., Rte. 26, Oxford, Maine. In lieu of flowers, donations in June's memory may be sent to Responsible Pet Care, PO Box 378, Norway, Maine 04268.
Please follow and like us: