Judith B. Ardis
Sturbridge, MASS. — Judith B. (Sykes) Ardis, 72, of Crescent Way, passed away Saturday, Feb. 19th, in the UMass Memorial Medical Center, University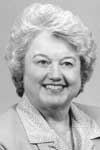 Campus, Worcester, after a brief battle with pancreatic cancer.
She leaves a son, Jeffrey G. Ardis and his wife Maura G. Ardis of Sturbridge; a brother, Richard M. Sykes and his wife Kaye Ann Sykes of Harrison, Maine; and two grandchildren, Jameson Ardis and Charlotte Ardis. She was born in Portsmouth, N.H., the daughter of the late Francis and Barbara (Manson) Sykes. She was a graduate of Portsmouth High School and Smith College in Northampton, Mass. She received her Master of Fine Arts Degree from the University of North Carolina at Greensboro. She lived in Greensboro for 30 years before moving here four years ago to be closer to her grandchildren.
Judy was a stay-at-home mom for many years while also being passionately involved in acting and directing in community theatre. She went on to her second career as a Corporate Trainer and Instructional Designer for United Guaranty in Greensboro for nearly 20 years.
Her funeral service will be held on Thursday, Feb. 24th, at 10:00 a.m. in the Sturbridge Federated Church, corner of Maple and Main Streets, Sturbridge. There are no calling hours. Burial in Central Cemetery, Rye, N.H., will be held at the convenience of the family.
In lieu of flowers, donations may be made to the Sturbridge Federated Church, P.O. Box 193, Sturbridge, MA 01566, or to the American Cancer Society, 30 Speen St., Framingham, MA 01701.
The Daniel T. Morrill Funeral Home, 130 Hamilton St., Southbridge, is directing arrangements.
Please follow and like us: