Joseph Zupokfska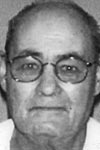 AUBURN — Joseph Zupokfska, 68, of South Paris died peacefully Friday, Feb. 17, 2012 at the Hospice House with family lovingly at his side.
"Joe" was born June 26, 1943 in Roxbury, Mass. He was a self-made man and successful entrepreneur. He worked as a structural steel sandblaster and painter for 30 years and served as a supervisor and steward for Local 691 out of New Bedford, Mass., working on landmark projects such as the Bourne, Sagamore and railroad bridges, water tanks and radio towers. He later owned and operated a federally-licensed farm in Carver, Mass. He moved to western Maine in 1986, alongside his wife, Eleanor, and pursued real estate development, building, renting and selling homes. He was a unique personality. He was a maverick in all his life's pursuits, both personal and professional, but his greatest joy and accomplishment was his large loving family.
He is survived by his wife of 45 years, Eleanor (Cole) Zupokfska; a son and five daughters, Leon Zupokfska of Londonderry, N.H., Carole Barrett of South Paris, Lisa Simpson of Waterford, Joelle Ray of Raleigh, N.C., Sherry Zupokfska and Rebecca Zupokfska, both of South Paris; 15 grandchildren; and one great-grandson.
He was predeceased by a son, Eric James Zupokfska; and his sister, Dorothy Zupokfska.
Donations in Joe's memory may be made to: Hospice House of Androscoggin Home Care and Hospice, 236 Stetson Rd., Auburn, ME 04210.
Arrangements are under the direction of Chandler Funeral Homes & Cremation Service, 45 Main Street, South Paris. Online condolences may be shared with his family at www.chandlerfunerals.com
Please follow and like us: