Joseph W. Morton II
Joseph William Morton II passed away at his daughter's home on Feb. 15, 2011, with his family by his side.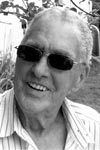 Joseph was born on Sept. 25, 1937 in Standish, to Joseph W. Morton Sr. and Arleen Shaw Morton.
He attended area schools. He retired from Paris Manufacturing as a boiler man.
Joseph was a "Champion" horseshoe player, enjoyed dancing, fishing and playing cards with family and friends.
He is survived by his companion and the love of his life, Marilynn Damon of North Windham; his children: Joseph W. Morton III of Sebago, Penny Wildes of Bridgton, Heidi Carrignan of Gorham, and Larry Morton of Naples; eight grandchildren and six great-grandchildren; many nieces and nephews; his brother Raymond of Virginia; his sisters: Mildred Huntton of Florida, Shirley Lewis of Texas, and Marjorie Morton of Portland; and his ex-wife and friend Marie Aube.
Joseph was predeceased by brother Charlie Morton and sister Ellen Martin.
A Memorial Service will be held Friday, Feb. 18 at 6–7 p.m. at Blais Funeral Home on Church St. in Westbrook, with a gathering to follow at the Westbrook Baptist Church, 310 Conant St. (Rte. 25) in Westbrook. Refreshments will be served.
Please follow and like us: