Joseph H. Durrell, Jr.
Joseph Harvey Durrell, Jr. 86, formerly of Bridgton, died Jan. 16, 2011 at Sweet Brook Care Center in Williamstown, Mass.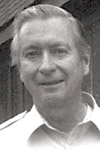 Born in New York City, N.Y. on Dec. 7, 1924 to Elizabeth and Joseph Durrell, he graduated from The Hotchkiss School and Williams College, where he majored in Geology and was a member of Chi Psi. He served as a First Lieutenant in the Army Air Force from 1942-1946.
Joe worked in textile sales for most of his career, beginning with Burlington in St. Louis and ending with J.P. Stevens in Philadelphia. He loved deep-sea fishing and spent some of his happiest days aboard the Look Homeward several miles off the Jersey shore. On weekends, he took over in the kitchen, spending hours preparing the recipes of favorite chefs from Julia Childs to Paul Prudhomme. He and his late wife, Ann Eshbaugh Durrell, raised their family in Radnor, Pa. and initially retired to Dorset, Vt. They later moved to Bridgton, where they made their home with their oldest son, James Durrell.
Joe is survived by daughters Connie Sheehy of Williamstown and Lynn Karidis Ossining, N.Y.; son William Durrell of Moretown, Vt.; and three grandchildrenn.
Besides his parents, he was predeceased by his wife of 59 years in 2008; his son James in 2010; and brothers Robert and Lawrence.
Services will be private. Flynn & Dagnoli-Montagna Home for Funerals, Central Chapel are in charge of the arrangements.
Contributions in his memory can be made to the VNA and Hospice of Northern Berkshire, in care of the funeral home, 74 Marshall Street, North Adams, MA 01247.
Please follow and like us: