John W. Small Sr.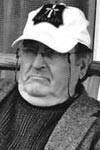 NORWAY — John William Small Sr., 70, of Norway, passed away on Sunday, Dec. 4, 2011 at Stephens Memorial Hospital, following a heart attack.
John was born in Paris, Sept. 26, 1941, the son of Edna Small (Monk) and Carl Michael Small. He joined the U.S. Army in October 1958, and had 17 years of total military service in the Combat Engineer Battalion and also later in life as a chaplain's assistant in the National Guard. He recently became a member of the American Legion. He worked primarily at A.C. Lawrence Leather Co. and Wilner Wood Products, as well as other local businesses.
After his years of service in the military, John was a pastor-evangelist, first as interim pastor for the Harrison Seventh-day Adventist Church, as well as a literature evangelist for the church. He later was a church planter/pastor for the Advent Christian Church and was pastor at the Bridgton, Port Clyde and Limerick churches as well as Seabrook, N.H., and Charlton, Mass., churches. John also had his own ministry known as Voice in the Wilderness Ministries. He spoke and had Bible studies in many towns in Maine, as well as a radio program on Rumford and Norway stations for several years. Most recently, he had been helping with Men on Fire Gospel Music Ministry.
John was a devoted and loving husband to his wife, Ingrid (Hayes) Small for 44 years; he adored his children and grandchildren.
He and his wife shared a love for photography and travel. They took many pictures and traveled together, including a trip to Alaska last year. He also loved gardening and taking care of his birds, fish and outdoor "critters."
Along with his wife, Ingrid, he leaves his son, John W. Small Jr.; two grandsons and two granddaughters; his daughter, Yvonne Mills; brother, Michael Small of Oxford; five stepsisters and one stepbrother and their families from the marriage of John's mother, Edna to Everard Monk; four stepsisters and five stepbrothers and their families from the marriage of John's father, Carl Small to Esther Small; and aunts, uncles and numerous cousins, nieces and nephews.
John was predeceased by his mother, Edna Monk; stepfather, Everard Monk; father, Carl Small; uncle; stepsister, Geraldine Cook; and special cousin.
Online condolences may be expressed to the family at www.oxfordhillfuneralservices.com.
Funeral services will be held Sunday, Dec. 11, at 3 p.m. at the Oxford Seventh-day Adventist Church, 259 Fore Street, Oxford, with a time for visitation from 1 to 2:30 p.m. prior to the service. A celebration of John's life will follow downstairs in the church after the service. Arrangements under the care of Oxford Hills and Weston Funeral Services, 1037 Main Street, Route 26, Oxford.
Please follow and like us: