John R. Chandler, 78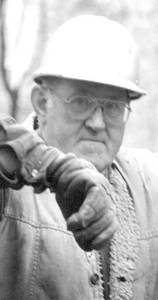 LOVELL — John Royce Chandler, 78, of Lovell, died at his home in Number 4 Road on Oct. 4, 2012, with the loving care of his family, friends, and Hospice.
He was born in North Conway, N.H., the son of Millard and Anna Charles Chandler. He grew up on the family farm at the foot of Baldface Mt. in North Chatham, N.H. He received his elementary education in a one-room schoolhouse in Chatham and graduated from Fryeburg Academy in 1951. John was a "lifelong learner," who read mostly nonfiction about any subject that was of interest to him including, but not limited to, science, history, and geography. While his "roots" were firmly planted in the Cold River Valley, he became a member of the Lovell community when he married his wife, Roberta Cram in 1959.
As a resident of Lovell he participated in many community activities; he served as town selectman for nine years, was a member of the budget committee for 21 years (where he took pride in frequently casting the lone negative vote). He also was a committee member for many years in the Lovell Boy Scouts. John was active in the establishing of The Lovell Historical Society, The Brick Church for the Performing Arts, and the youth program which has now become The Lovell Recreation Department.  John worked in the woods for most of his life, he was skilled in woodland management and had an excellent sense of sustainable growth, often he would be known to say "I'm not a logger, I'm a woodsman."After he retired in 1999 he devoted more of his time to his friends and family. John enjoyed people of all ages, especially kids, spending time teaching them various things from hunting and fishing, to logging and gardening. He loved the outdoors, and to share it with people he loved made it even more enjoyable. John was a mentor and father figure throughout his years to many people. He enjoyed sharing his knowledge with those he cared for, and loved storytelling.
He will be greatly missed and never forgotten. John is survived by his wife, Roberta (Cram) Chandler, of Lovell; his son, John, daughter-in-law Brenda, and granddaughter Erin, of Yarmouth; his sister, Joan Chabot, and nieces and nephews.His family is deeply grateful to his caregivers, Chelsey R. Walker, Linda Eastman Cooper, Brittany Walker, and Cynthia Walker.
As to John's wishes there will be no service. Any contributions in John's memory may be made to The Brick Church for the Performing Arts, Androscoggin Home Care & Hospice, or to a charity of choice
Please follow and like us: