John D. Muse Sr., 87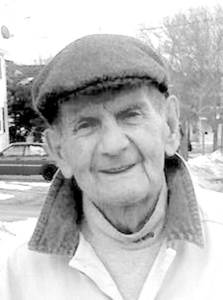 PORTLAND — John D. Muse Sr., 87, of Portland, died on Thursday, Oct. 11, 2012, at Mercy Hospital in Portland.
John was born on May 25, 1925, in Wakefield, Mass., the son of James and Ann McHale Muse.
John was a graduate of Malden Catholic High School. He played on their championship football team, earning the name "The Rock of Gibraltar." Following high school, he served stateside with the Navy during World War II. Following the war, John graduated from Boston College, where he also played football.
In September 1949, he married the former Catherine M. Kelly. They began to raise a family. John accepted a position with U.S. Gypsum. He worked for the company for over 20 years. In the early 1970s, John began a business, Down East Gypsum; he operated the company until his retirement.
John remained a strong athlete throughout his life. He was a longtime skier and member of The Downeast Ski Club. He also played adult hockey in the "Cardiac League" until his mid 60s. He also coached pee-wee and high school hockey.
John was a people person who loved to share his Irish wit as a storyteller. He enjoyed spending time with his many friends at "The Club."
John was a communicant of St. Patrick's Church. He made several trips to Ireland and loved Irish music.
John was predeceased by his beloved wife, Catherine, in 1983; and a son, State Rep. Kevin Muse of Fryeburg, in 2004.
Survivors include two daughters, Catherine Muse-Kenney of Scarborough and Jeanne Muse Trent of Portland; two sons, John Muse Jr. of Portland and former State Rep., Christopher Muse of South Portland; a sister, Joanie Muse of Wakefield, Mass.; a brother, Robert Muse of Brookline, Mass.; a daughter-in-law, former State Rep., Roberta Muse of Fryeburg; nine grandchildren; four great-grandchildren; many nieces and nephews.
Visiting hours will be held on Friday, Oct. 19, from 5 to 8 p.m., at Conroy-Tully Crawford Funeral Home, 172 State Street, Portland. Prayers will be recited on Saturday at 10:15 a.m., at the funeral home, followed by an 11 a.m. Mass of Christian Burial at St. Patrick's Church, 1342 Congress Street, Portland. There will be a private family burial at a later date. Online condolences may be sent to: www.ctcrawford.com.
Those desiring may make donations to: Maine Cancer Research Foundation, 974 Baxter Blvd., Portland, ME 04103.
Please follow and like us: