Joan H. Hotchkiss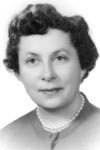 BOSTON, MASSACHUSETTS — Joan Holt Hotchkiss, 90, died peacefully June 4, 2011, at Sherrill House in Boston, Massachusetts. She was born in Providence, Rhode Island, October 8, 1920, the daughter of Marjorie Scribner and Dr. William Holt of Portland and North Bridgton.
She attended Portland schools and graduated from Deering High School in 1938 and Smith College in 1942. For several years she was secretary to the editor of Little, Brown in Boston. In 1947 she married Edward R. Browne, M.D. and lived in Brookline and Hingham, Massachusetts, until 1952.
She married Earl C. Hotchkiss of Bridgton in 1953 and moved to the Upper Ridge there with her two children. Her husband died in 2003, two months short of their 50th anniversary. For five years she taught English at Bridgton High School and for three years at Bridgton Academy. She worked as bookkeeper for her husband's surveying business for the next thirty years, until their retirement in 1993.
Mrs. Hotchkiss was a communicant of St. Joseph's Catholic Church in Bridgton, a member of the North Bridgton Historical Society, and the Smith Club of Western Maine.
She is survived by a son, Bill Browne and his wife Cheryl of Ashland, Massachusetts; a daughter, Constance Anne Browne and her spouse Silvia Glick of Cambridge, Massachusetts; a brother, Will Holt and his wife Dion Alden Holt of New York City and North Bridgton; and a nephew, Courtney W. Holt and his wife Carrie of Los Angeles, California.
A graveside service will be held in the early fall, Mrs. Hotchkiss' favorite season, at the North Bridgton Cemetery. Donations in her memory may be made to Sherrill House, 135 S. Huntington Ave., Boston, MA 02130, toward their Serenity Garden or to a charity of one's choice. Arrangements are being made by Raymond-Wentworth/Chandler Funeral Homes & Cremation Service, 8 Elm St., Bridgton. Online condolences may be shared with her family at www.chandlerfunerals.com
Please follow and like us: