Jennie B. Manning
BROCKTON, MASS. — Jennie B. (Shilonski) Manning, 99, of Brockton, Mass. died Dec. 12, 2010 at Apple Valley Center in Ayer.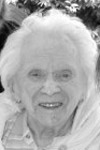 A lifelong resident of Brockton, she worked at Manning's Diner for many years and also in the canteen at the V.A. Medical Center and at local donut shops until retirement at the age of 80. She was a communicant of St. Edward Church for many years. Jennie enjoyed walking at Westgate Mall and volunteered at St. Edward Church bingo, Catholic Charities, St. Paul's Soup Kitchen and the VA Medical Center.
Jennie was the wife of the late F. Clayton Manning, beloved mother of Francis C. Manning Jr. of North Palm Beach, Fla., John P. Manning of Bridgton, Michael J. Manning of Cohasset, Mass., June M. Folger of Groton, and Janet M. Manning of Wilmington; grandmother of 14; great-grandmother of 17.
She was predeceased by her sister, Adelia Gerrior; and brothers Peter Shilonski and Anthony Silanskas. Arrangements are by Waitt Funeral Home.
A funeral Mass will be held at 9 a.m. Friday in St. Edith Stein Parish and burial follows at Calvary Cemetery.
Memorial gifts may be made to American Cancer Society, P.O. Box 1004, Meriden, CT 06450 or American Diabetes Association, P.O. Box 11454, Alexandria, VA 22312.
Please follow and like us: