Jeanne M. Woods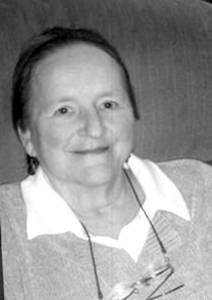 PORTLAND — Jeanne Mary Woods, 78, of Portland, passed away Saturday, May 26, 2012 at Gosnell Hospice House in Scarborough.
She was born May 31, 1933 in Brunswick, a daughter of the late William and Lucille (Bouchard) Paiement.
Jeanne enjoyed knitting, crocheting, rides in the rain and especially visits from her grandchildren. She will be remembered as a faithful viewer of "The Young and The Restless" and "The Bold and The Beautiful." Her favorite hobby was playing cribbage and board games with her husband, Skip. Skip and Jeanne would have fierce tournaments at home. They were so competitive that her line was always, "I wouldn't let God win!" Well, now that she is with him, the family is sure that they are playing a competitive game together.
Jeanne is survived by her children, Skip Woods Jr. of Old Orchard Beach, Robin Woods of Portland, Andrew Woods of Standish, Dale Woods of Portland and Elisa Bartlett of Buxton; siblings, Joseph Robert Paiement of Casco, Lorette Marshall of Portland and Dick Paiment of Portland; 11 grandchildren; and 11 great-grandchildren.
She was predeceased by her husband, Ammie "Skip" Woods Sr.; baby boy at birth, Jimmy; and her two sons, Gerald and Robert Woods.
Family and friends are invited to a graveside service at 11 a.m., today, Thursday, May 31, 2012 at New Calvary Cemetery, South Portland. Following the graveside service, a gathering will be held at her daughter Robin and son Dale's home, 27 Veranda Street in Portland.
Arrangements are under the care of Jones, Rich & Hutchins Funeral Home, 199 Woodford Street, Portland. Please visit www.jonesrichandhutchins.com for additional information and to sign Jeanne's guestbook.
Donations may be made to: Gosnell Memorial Hospice House, 11 Hunnewell Drive, Scarborough, ME 04074.
Please follow and like us: