Jeanne (Lachance) Cox, 75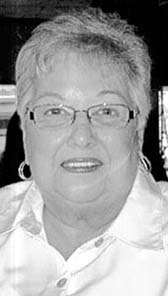 WINDHAM — Jeanne (Lachance) Cox, 75, passed away on Friday, Feb. 8, 2019, at Maine Medical Center.
She was born May 25, 1943, in Portland, the daughter of Ronald E. Lachance and Laurette Jordan. Jeanne grew up in both Westbrook and Gorham, and graduated from Gorham High School, class of 1961. The following year, Jeanne married her loving husband, Thomas Cox, and together they resided in Windham, where they raised their two children. They spent 56 years together before his passing in October 2018.
Throughout her working career, Jeanne had several positions, retiring from Shaw's after 13 years. She then began her most meaningful job, caring for her grandchildren. She loved to cook, travel, host family gatherings, to knit, and do puzzles, but she most cherished time spent with her beloved grandchildren and family. She will always be remembered as a kind, quick-witted person, and will be missed by all.
Along with her parents, she was predeceased by her loving husband of 56 years, Thomas Cox.
She is survived by children, Julie Michaud of Raymond and Michael Cox of Windham; four grandchildren; brother, Ronald Lachance Jr. of Nevada; and several nieces and nephews.
Visitation was held on Wednesday, Feb. 13, from 5 to 7 p.m. at the Westbrook Chapel of Dolby, Blais & Segee, 35 Church Street, Westbrook. A Mass of Christian Burial will be Thursday, Feb. 14, at 11 a.m. at St. Anthony's of Padua, 268 Brown Street, Westbrook. Interment will be at St. Hyacinth Cemetery, Westbrook in the spring.
To express condolences, and to participate in Jeanne's online tribute, visit www.DolbyBlaisSegee.com
In lieu of flowers, memorial contributions in Jeanne's name may be made to: Alzheimer's Association, Maine Chapter, 383 US Route One #2C, Scarborough, ME 04074.
Please follow and like us: