Jean-Marie J. Rioux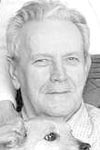 LEWISTON — Jean-Marie Joseph Rioux, 84, of Lewiston passed away at his residence May 16. He was born Jan. 9, 1927, a son of the late William and Zoraide (Morency) Rioux.
Jean-Marie served in the U.S. Navy and later became an electronic technician. He will be remembered by his family as a man of religious faith. Jean-Marie enjoyed woodworking, having made many cabinets for his family and friends. He enjoyed going out to restaurants to eat and watching the ships come in at Fort Williams. In his spare time, he would spend many hours on his computer.
He is survived by his wife of 60 years, Fleurette (Samson) Rioux of Auburn; his children, Ronald Rioux, of South Portland, Gerry Rioux, of Leeds, Nancy Barry, of Greene, Real Rioux, of Falmouth and Dorothy Hutchinson, of Auburn; his siblings, Stella Chaloux, of Lewiston, Normand Rioux, of Raymond and Daniel Rioux, of Lewiston; 13 grandchildren; 10 great-grandchildren; as well as several nieces and nephews.
Jean-Marie was predeceased by his siblings, Antonio Rioux, Rita Lemelin, Bibiane Langlois, Bernadette Boucher, Marie-Ange Fournier, Gerard Rioux, Benoit Rioux and Dominic Rioux; and his granddaughter, Jennifer Barry.
Visitation will be held from 2 to 4 and 6 to 8 p.m. Thursday, May 19, at the The Fortin Group Cremation and Monument Services, 70 Horton St., Lewiston. A Mass of Christian Burial will be celebrated at 9 a.m. Friday, May 20, at the Basilica of Saints Peter and Paul, (lower church), 122 Ash St., Lewiston. Interment will follow at St. Peter's Cemetery. Memorial donations may be made to The American Heart Association, U.S. Route 1, Suite M, Scarborough, ME 04074, or to the American Diabetes Association, 80 Elm St., Portland, ME 04101.
Family and friends may offer their condolences to the Rioux family by visiting www.thefortingrouplewiston.com.
Please follow and like us: