Janie R. Smith
AUBURN — Janie R. Smith, 69, of Mechanic Falls died Friday, Jan. 21, 2011 at the Hospice House.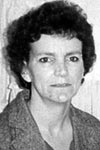 She was born in Annapolis, Md., May 21, 1941, the daughter of Jack and Marybelle Colfer Harriman. She attended school in Mechanic Falls and spent summers in Princeton as a child. She had been a spinner at Robinsons Woolen Mill, also employed at Mecon Manufacturing, Etonic, Roak the Florist and Cole Farms.
She married Robert D. Smith on Jan. 9, 1960. She was a good homemaker and loved family events. She enjoyed gardening, fishing, long rides, picking blueberries and playing beano. She was a Tom Brady and Patriots fan.
She is survived by her husband, Robert of Mechanic Falls; three children, Robert T. of Mechanic Falls, Daniel of Auburn and Mary Pepin of Poland; a sister, Jackie Cross of Bridgton; seven grandchildren; and five great-grandchildren.
She was predeceased by a brother, Gaylon; her parents; a sister, Shirley Harriman; and a grandson.
Online condolences may be shared with her family at www.chandlerfunerals.com
A memorial service was held on Monday, Jan. 24, at Chandler Funeral Homes & Cremation Service, 26 West Dwinal Street, Mechanic Falls.
Donations in her memory may be made to Hospice House, Androscoggin Home Care and Hospice, P.O. Box 819, Lewiston, ME 04240.
Please follow and like us: