Janet B. Thorne
GRAY — Janet Burke Thorne, 67, passed away peacefully on Oct. 27, 2010, in Gray.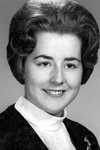 She was born in Portland, on April 18, 1943, the daughter of Millicent Sanborn and Joseph Burke. A 1961 graduate of Portland High School, she excelled as both a student and an athlete. She received many awards at Portland High including a Brown Medal and the Maine State Athletic Award, given for the best female athlete in the state, which she was the first junior ever to win. Janet graduated from Gorham State Teachers' College in 1965.
She had three children with her husband Walter Thorne. She taught for four years before leaving the profession she loved to devote more time to her children. Janet worked at the ferry terminal in Portland for the U.S. Customs Service and for U.S. Post Office, first as a rural letter carrier and later a clerk. She loved conversing with her many regular postal customers in South Windham and greatly valued their camaraderie. She retired from the post office after 23 years of service.
Janet was an intelligent and compassionate woman who loved children and animals, especially dogs. She was happiest when surrounded by her children and grandchildren at family gatherings. In her spare time, she enjoyed reading, cooking, scrapbooking, and quilting. Janet imparted her love of athletics, the outdoors, and history to her children. She was very proud of her Irish heritage and liked to work on her family genealogy with her sister Linda. Her lively sense of humor and "tourist smile" will be missed by family and friends alike.
Janet is survived by her three children, Craig Thorne of Standish, Michelle Tucci of Casco and Rae-Ann Griffin of Gray; her five grandchildren; her sisters, Linda Small of Turner and Mary Kelsey of Brandon, Fla.; her two nieces; and an uncle and aunt.
A celebration of life was held on Tuesday, Nov. 2, at Wilson Funeral Home in Gray.
In lieu of flowers, donations may be made to: The Janet Burke Thorne ('61) Memorial Scholarship, care of Joyce DiFillipo, Portland High School, 284 Cumberland Avenue, Portland, ME 04101.
Please follow and like us: