James R. McGaffin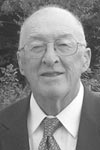 SACO — James Renwick McGaffin, 86, of Saco, passed away at the Gosnell Hospice House on Tuesday, July 12, 2011, surrounded by his loving family.
He was born in Saskatchewan, Canada on Sept. 28, 1924, the son of James Renwick and Nellie Matthews McGaffin.
James attended Houlton High School and left to serve in the U.S. Army. During World War II, he served in Italy in the 34th Infantry Division and received a Purple Heart, Bronze Star and other citations.
After the war, he returned to the states, finished high school and then attended Maine Central Institute. Upon completion of MCI, James attended Springfield College and graduated with both his bachelor's and master's degrees in Education. Returning to Maine, he first taught in Dexter, where he also coached three sports. After Dexter, James began working for Thornton Academy in 1956. At Thornton, he was a teacher, head baseball coach, assistant football and head basketball coach. He coached basketball for over 15 years, from 1956 until 1970. At a school with a reputation for football, he was instrumental in putting basketball on the map. Five of his first six years, they made the playoffs and nine out of the next 13. He also served as Athletic Director, Head of Building and Grounds and Submaster, retiring in 1983.
He was honored in the second class of the Thornton Academy Athletic Hall of Fame and was inducted in October of 2007.
James enjoyed golf and was a member of the Dexter Municipal Golf Course and Biddeford Saco Country Club.
In retirement, he and his wife wintered in Florida where he was recently made a member of the Hall of Fame of the Indian River Shuffleboard League. Summers were spent in Dexter on Lake Wassookeag where he loved having his children and grandchildren visit.
Survivors include his wife of 55 years, Marilyn Cross McGaffin of Saco; a son, Donald McGaffin  of South Portland; three daughters, Nancy Bolduc of Saco, Susan Graham of Jaffrey, N.H. and Kathleen Martin of Casco; two brothers, William McGaffin of West Haven, Conn. and David McGaffin of Pittsfield; two sisters, Sarah Stanton of Sandy, Utah and Bonnie Baker of Tiverton, R.I.; eight grandchildren; and six great-grandchildren.
A family graveside service with military honors will be held on Saturday, July 23, 2011, at 11 a.m., at the Mount Pleasant Cemetery in Dexter. Arrangements are being coordinated by Dennett, Craig & Pate, 365 Main Street, Saco.
For those wishing to make memorial contributions, they may forward them to: Thornton Academy Athletic Fund, 438 Main St., Saco, ME 04072.
Please follow and like us: