James D. Maloney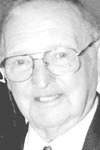 Chatham, New Hampshire — James Dearing Maloney, 87, of Chatham, N.H., passed away on Saturday, Feb. 18, 2012.
Jim was born in Newton, Mass., the son of James and Mary Evangeline Maloney, was raised in Dover, Mass. and resided in Needham, Mass. before retiring to Chatham in 1982.
Jim served in the Navy as a gunners mate on the USS Biscayne from 1942 to 1946. He worked as a bookbinder for Norfolk County, Mass. for 35 years before retiring in 1982. He belonged to the Norfolk Lodge of Masons in Needham, Mass. and Delta Lodge AF&AM #153 in Lovell, Maine. He loved the outdoors — hiking, hunting, fishing, and camping with family and friends.
Jim leaves his loving wife of 63 years, Winifred Barbara Maloney; three daughters, Janice Hill and husband Barry of Oquossoc, Maine, Joyce Holmes and husband Dwight of Fryeburg, Maine, Jill Bolles and husband Bill of Middleboro, Mass.; six grandchildren and eleven great-grandchildren.
Graveside services will be private. A celebration of life will be held for family and friends this summer.
In lieu of flowers, donations may be made to Fryeburg Rescue, PO Box 177, Fryeburg, ME 04037, or Saco Valley Fire Association, 148 North Fryeburg Road, Fryeburg, ME 04037.
Arrangements are made with Wood Funeral Home, Fryeburg. Online condolences may be expressed to the family at www.woodfuneral.org
Please follow and like us: