James A. Nilsen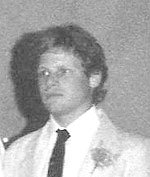 PORTLAND — James Alan "Jimmy" Nilsen, 49, died unexpectedly Saturday, March 31, 2012.
He was born in Portland, the son of Nels and Sharon Zemla Nilsen. Jimmy grew up in Westbrook, in the home his parents still live in today. He enjoyed the outdoors, especially hunting and fishing. He graduated from Westbrook High School in 1982. He recently reconnected with his only daughter, Erica, and was working very hard to strengthen their relationship.
He is survived by his parents, Nels and Sharon Nilsen of Westbrook; two brothers, Glenn of Windham and Scott of Westbrook; a sister, Rhonda Durant of Bridgton; many nieces and nephews; his wife of six years, Sherry of Portland; and his only daughter, Erica Cairns of Sebago, who is currently carrying his first grandchild.
Visitation was held on Wednesday from 2 p.m. until the start of the funeral services at 4 p.m. at the Blais & Hay Funeral Home, 35 Church Street, Westbrook. For online condolences please visit www.blaisandhayfuneralhome.com
In lieu of flowers, donations to a trust fund, to be set up for Jim's grandchild, should be sent, in care of Sharon Nilsen, 167 Lyman Street, Westbrook, ME 04092.
Please follow and like us: