Jam by the Dam this Saturday
DENMARK — "Last year was our first try at this, and it was way beyond our expectations," said Jamie Hook, organizer of Denmark's DAM JAM music festival. "So, I guess someone was trying to tell us we had to do it again!"
So this Saturday, July 27 from 4 p.m. to midnight, the Denmark Arts Center (DAC) will, for the second year in a row, unfurl their signature hootenanny down by the usually placid shores of Moose Pond, right in the heart of Denmark Village. An all-day music festival, the DAM JAM, is fast making its mark on the Maine music scene, with pedigreed acts from Maine and beyond anchoring a day of music, fine food, arts activities, and even a beer garden — all in the spectacular surroundings of Denmark's Bicentennial Park (Route 160).
"Denmark is still very much a small village," Hook said, "but it's one with an overdeveloped sense of community. So, we felt it would be in the best stone-soup tradition to have a big party, and invite everyone. That's how the DAM JAM was born."
This year, organizers have changed the format slightly. There will still be a beer garden, courtesy of Bray's Brewpub of Naples, but this year it will include most of the park itself, instead of being limited to the Gazebo area.
Also, the time has been shifted from early afternoon to later into the evening, with music wrapping up by 11 p.m.
They have also expanded the food offerings to include two great local vendors: Fire Placed Pizza is an artisanal pizza maker based in Bethel, and El Corazon is an authentic Mexican taqueria-on-wheels based out of Portland. Both will be on hand to satisfy through out the day, along with the DAC youth volunteers, who will be offering homemade cookies, popsicles and lemonade.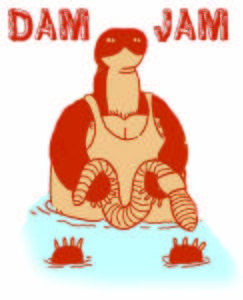 Also on hand will be the Artvan, Maine's signature mobile art-therapy program. A nonprofit organization dedicated to offering kids the opportunity to develop a love for art making through guided activity, the Artvan has worked with countless schools and organizations throughout central Maine, and is a welcome addition to the DAM JAM.
But, in the end, it's all about the music. This year's lineup crosses the spectrum, kicking off with a bona-fide Japanese drum ensemble, the celebrated Burlington Taiko Ensemble at 4 p.m., and ending with Portland's fast-rising synth-pop juggernaut Sunset Hearts at 9:45 p.m.
In between, the DAM JAM will entertain with a raucous, NY-based bluegrass duo Mountain Animation at 5 p.m.; Northwood Maine's experimental folk hero (with a full band) Jacob Augustine at 6:15 p.m.; and, returning from last year, Bar Harbor's groundbreaking fuzz-rockers Coke Weed at 8:45 p.m. Then, anchoring the heart of the lineup at 7:30 p.m., is headliner Kristin Hersh, accompanied here by last year's DAC artist-in-residence, cellist Brent Arnold.
The whole affair costs a sociable $10, and ID will be required for the beer garden. Kids 12 and under are free. Tickets are available starting at 3:30 p.m. at Bicentennial Park, or may be purchased in advance at damjam.brownpapertickets.com
The entire event is a fundraiser for the Denmark Arts Center — so you can have a blast, and feel great about supporting your local community!
For more information, see www.denmarkarts.org
Please follow and like us: