Jacqueline A. Desjardins
SAN CLEMENT, CALIF. — Jacqueline "Jackie" A. Desjardins, 56, passed away on Saturday, Jan. 8, 2011 after a long battle with numerous medical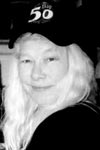 conditions.
Jackie was born May 30, 1954, in Aberdeen, Md., to the late Jack and Alice Nelson. She later moved to Maine and graduated from Edward Little High School in 1973.
She worked at Auburn K-Mart, Knapp Shoe and Maine Plastics. Her greatest joy was taking care of injured squirrels. She volunteered at the Greater Androscoggin Humane Society.
She moved to California to live with her niece Michelle and family, where she traveled to Hawaii, Mexico and enjoyed cruises.
She loved camping with Kristen, David and Cindi, going to the ocean and spending time with family. She also enjoyed quilting with her cousins. She will be remembered for her laughter and outgoing personality.
She is survived by a sister, Stacey Bent, of Bridgton; brothers, Fred Nelson of Brunswick and John Nelson of Austin, Texas; many nieces, nephews, great-nieces, great-nephews and cousins.
She was predeceased by her mother and father; a niece; and sister, Cindi Souviney.
Memorial contributions may be made to the Greater Androscoggin Humane Society, 55 Strawberry Ave., Lewiston, ME 04240, in memory of Jackie Desjardins.
A memorial service will be set at a later date.
Please follow and like us: