J. Joseph Gilligan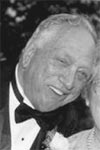 Attorney J. Joseph Gilligan, 84, of Bridgton, Maine, formerly of Salem, Mass., husband of the late Rosemary D. (Welch) Gilligan, died Sunday evening, April 18, 2011 in Hunt Nursing and Rehabilitation Center, Danvers, Mass.
Born in Salem, the son of the late James and Madeline (Currier) Gilligan, he was raised and educated in Salem. Following his graduation from Salem High School in the Class of 1944, he received his Degree from Suffolk University and was admitted to the Massachusetts Bar.
For over 20 years, Mr. Gilligan served as the Essex County Law Librarian while also maintaining his own private law practice, until retiring in 1992 and moving to Bridgton, Maine. An avid, skier, Red Sox fan and golfer, he was a longtime member of Salem Country Club and enjoyed traveling.
Mr. Gilligan is survived by four children and nine grandchildren: Kevin and his wife Christine Gilligan and their children Victoria and Trevor of Marblehead, Mass.; Salem Police Department Captain Brian Gilligan and his wife Donna and their children Jack and McKenna of Salem, Mass.; Meghan and her husband Michael Persson and their children Cory, Zachary, and Spencer of Danvers, Mass.; and Joe and his wife Jen Gilligan and their children Mallory and Jared of Beverly, Mass.
He was predeceased by a sister Joan Doda.
His funeral will be held on Thursday at 9:15 a.m. from the Murphy Funeral Home, 85 Federal St., (corner of North St.) Salem, Mass., to be followed by services at 10 a.m. in the Immaculate Conception Church, 15 Hawthorne Blvd., Salem, Mass. Relatives and friends are respectfully invited to attend. Visiting hours were Wednesday from 4 p.m. to 8 p.m. Interment will be in St. Mary's Cemetery, Salem, Mass. For online guest book or additional information please call 978-744-0497 or visit www.MurphyFuneralHome.com
Please follow and like us: