Is 'Ice's sign an option? Ping pong organizer Bill Preis thinks so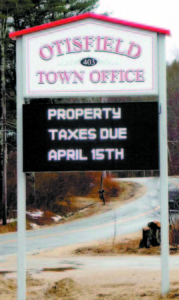 By Wayne E. Rivet
Staff Writer
Bill Preis isn't giving up on finding a way to better advertise events happening at the Bridgton Town Hall.
He thinks he has found a legitimate solution.
While local selectmen heard loud and clear that North High Street residents don't want to see a multi-colored, flashing digital board outside of the historic town hall, Preis believes "electronic" doesn't have to mean ugly, harsh and out of place.
"I was passing through Otisfield on Route 121 recently and saw this new type of 'Ice electronic sign.' The white letters stand out from the black background, which kind of disappears. I think this new sign (see accompanying photo) is a game changer for electronic signs because everyone remembers an awful example of a dazzling, in your face sign that competes for your attention," the local resident, who organizes weekly ping pong play at the Town Hall, said. "This new 'Ice' sign was installed in December and there has not been a single complaint."
Preis called the Otisfield Town Office, and was told that officials had considerable opposition to an electronic sign when it was first proposed, but with "no dazzling colors" and there have been "no complaints!"
While selectmen have entered into an agreement with local sign maker, Muddy River Signs, to construct a board similar to the one used by the Town of Casco, Preis is hopeful they might be willing to tweak the approved sign.
"The Town of Bridgton spent a lot of money to improve the town hall over the last few years to keep it from falling down and to again make it a quality facility for many rec programs and town events. That budget included $12,000 for a new electronic sign that would help to advertise events that would take place in the town hall and help make the town's investment worthwhile," wrote Preis in a correspondence with selectmen and Town Manager Bob Peabody. "The town stopped using the existing mechanical sign to advertise town hall events many years ago because it requires the Rec Director to physically open the sign, in rain and snow, and place the letters into each space by hand, on both sides of the sign. That simply will not get done even if the town spends additional money for a new mechanical sign."
The supplier of the Otisfield sign is Neo Kraft of Lewiston, Preis learned.
"The company agreed to show a sample of the new sign at the Otisfield Town Office for all to see.  The response was very positive and the project was approved. Perhaps the 'Ice Sign' could be incorporated into the existing historical sign in front of the town hall to reduce costs," Preis wrote to Bridgton officials. "The Town of Bridgton needs a conservative, programmable, easy to update 'Ice' electronic sign that will allow the town to advertise and support various events in the Town Hall such as ping pong, tai chi, pickleball, aerobics, basketball, playgroups, walking, craft shows, town meeting and voting. The new 'Ice' sign is easy to update and allows messages to be customized with a computer or iPhone. It can be adjusted for brightness, duration or number of messages."
Preis added that most of the town hall events are run by volunteers. "These programs appeal to young town members all the way up to seniors and we need to get the word out that these programs are available," he noted, "The town website is not of much use if you don't know that a certain activity is available there."
Preis asked selectmen to consider setting up a meeting so the new "Ice" electronic sign can be seen by the townspeople and they can make an informed decision.
Town Manager Peabody said the item will be placed on a selectmen's meeting agenda.
Resignations: Robert Mawhinney has resigned from the Board of Appeals, while Peter DuBrule has resigned from the Community Development Committee.
Please follow and like us: