Herbert R. Adams
LOVELL — Herbert R. Adams, 78, of Lovell and Scarborough, died suddenly at Maine Medical Center on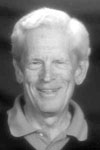 March 18, 2011.
Herb was born on April 19, 1932, in Philadelphia, Pa., to Leander H. Adams and Helen Richards Adams. He was a graduate of Colby College (1954), where he was involved in theatre productions and won the Levine Prize for Public Speaking, and Harvard Graduate School of Education (1972). He also studied at Harvard Divinity School.
Herb had careers in the ministry and as a textbook editor and developer at several companies, the last of which was Laidlaw Brothers, a subsidiary of Doubleday & Co., where he served as president and chief executive officer. He also taught English in public schools in Pennsylvania, Ohio, Massachusetts and Maine, and served as a principal of the middle school in the Oxford Hills school district.
Herb began his ministry while he was a student at Colby College, ordained by the Fairfield Methodist Church, where he served on weekends. Later while still at Colby, he commuted to Scarborough to serve the Pine Point Congregational Church, where he also served full-time after his graduation. He left there in 1956 to study at Harvard Divinity School.
Later, as a Unitarian Universalist minister he served churches in Maine, Massachusetts, New York State, New Mexico and Florida, sometimes simultaneously with other posts in teaching or publishing.
While in the Unitarian ministry, he authored a curriculum for church schools for the Unitarian Universalist Association Department of Education entitled "Project Listening," based upon his doctoral research and thesis about the importance of empathic listening. Later while in the publishing business, he co-authored a book, Listening Your Way to Management Success.
Herb was a past president of the Norway Paris Kiwanis Club and various civic organizations in the Oxford Hills and Lovell areas. He had a particular interest in lakes conservation.
Herb enjoyed Heald Pond, his summer home of 42 years, golf, fishing, poker, theatre, and jazz music. Most of all, he enjoyed spending time with his extensive extended family.
He was predeceased by parents; his infant brother, Hampton Adams, and a brother, Jon B. Adams.
He is survived by his wife of 34 years, Mary Ryan Adams; his sister, Anne Adams of Lancaster, Pa.; four children, Ashley Adams of Roslindale, Mass., Joshua Adams of Ithaca, N.Y., Lee Adams of Dayton, Minn., and Rachel Adams of Minneapolis Minn.; three stepchildren, Ande Hall of Pratt, Kan., Ken Hill of Milford, Mass. and Rich Hill of Geneva, Ill.; 12 beloved grandchildren; five nieces and nephews.
Services to celebrate Herb's life will be held at the Norway Unitarian Universalist Church, 479 Main Street, Norway on April 23, 2011, at 1 p.m.
In lieu of flowers, donations may be made in Herb's memory to: The West Paris Universalist Church, P.O. Box 36, West Paris, Maine 04289 or to the Norway Unitarian Universalist Church, 479 Main St., Norway, ME 04268.
Please follow and like us: