Harrison vet cherishes Quilt of Valor
By Wayne E. Rivet
Staff Writer
HARRISON — Walking into Henry Leino's home, one senses a great deal of pride in family and service.
Henry is one of 15 children — nine brothers and five sisters — of John and Hilda Leino. He and his wife, Miriam, are the proud parents of five children and 13 grandchildren. So, it is no surprise that family photos from several decades adorn the top of a piano, positioned along an inside wall of the living room.
Another major chapter in Henry's life was his days as a tail gunner in World War II. Between the living and dining rooms stands a multi-shelf "memorial," that includes photos of a strapping young man in uniform, medals and a plaque — a harsh reminder that war carries a heavy price.
WWII, Though others have forgotten; We shall never forget our comrades.
U.S. casualties, Dec. 7, 1941 to Dec. 31, 1946, 397,316 dead, 670,845 wounded, 78,733 MIAs, 124,079 POWs, 12,653 died in captivity.
Like his brothers, Henry served his country, fighting in World War II in the Air Corp. He was awarded a Purple Heart, Good Conduct Medal, honors for marksmanship and a Presidential Unit Citation.
Honorably discharged on Oct. 16, 1945, Henry would eventually dedicate 30 years to the ministry, serving in parishes in Massachusetts, New York, Michigan and Ohio. He returned home to Harrison to retire.
At the age of 88, Henry remains sharp of mind and appreciative of a full life. This summer, he received a special gift, which touched his heart.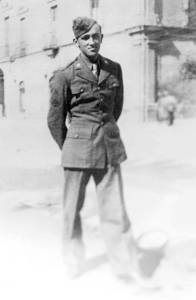 "My daughter, Mary, mentioned to a group that I served in World War II and had received a Purple Heart," Henry said. "I received a call asking if I would accept a quilt in honor of my service to my country. I was honored to."
The call came from Quilts of Valor in Warrenton, Missouri. Two women created the local chapter eight years ago. Each month, the ladies meet at a local church fellowship hall or community building and hand quilt. Sometimes, over 100 ladies are present. Although quilts vary in pattern, each has one constant element. Somewhere within the quilt is a red heart.
"It is with much love and appreciation for your sacrifice that these quilts are made," wrote Jean, one of the Quilts of Valor founders. "We thank you from the bottom of our hearts."
To date, the Eastern Missouri group has presented over 1,100 quilts to 33 different states, as well as Germany and Afghanistan. They have also been given to men and women injured in Iraq and Afghanistan.
"Our group is now including veterans from the Vietnam War and anyone touched by war," Jean said.
Quilts of Valor is a national movement, and over 87,000 quilts have been presented.
Henry is proud of his quilt. He will use it as a prop this Sunday, Nov. 10, at 9 a.m. when he speaks about his military service at Trinity Lutheran Church in South Paris.
"For some guys, that was a very difficult period in their lives and they don't speak about it too often," Henry said. "Everybody deals with difficult moments in their lives differently. I really don't mind."
Military Service — A Family Affair
Military service was woven into the fabric of the Leino family.
Matti was the first brother drafted, getting the call on June 30, 1942 with the Army, attached to the 844th Quartermaster Gas Supply Company. He was shot through the wrist near the French-Belgium border, and received a Purple Heart.
Arne was drafted on Aug. 28, 1942 at the age of 26. He served in the Air Corp as an airplane-automotive parts clerk with the 20h Bomber Command. Arne was sent to the China-Burma-India Theater of Operations, and served three years and four months.
Bruno was drafted on Dec. 18, 1942 and was assigned to the 34th Infantry Division. He was responsible for building bridges, demolition and helping the Army to "move up." He saw action in Sicily, Italy, France and Germany.
Lauri was drafted into the Army on Feb. 18, 1943, and fought battles in Africa, France, Italy, Sicily and Central Europe. Twice, he was wounded and received Purple Hearts.
Frank was inducted into the Army on Nov. 15, 1950. He served in the States as a clerk.
Eugene was drafted on Feb. 19, 1951, and served as an ambulance driver and was a member of the U.S. Medical Corp for the 167th Infantry.
Harold was drafted on Sept. 4, 1952 into the U.S. Army Infantry. He served in a heavy mortar company. His company was about 50 miles inside North Korea when a cease-fire was reached.
Walter was drafted on Oct. 26, 1960 in the Army Signal Corp. He served in the States in supply and clerk positions.
Like his brothers, Henry was ready to serve when the call came on April 14, 1943. He was 19 years old.
"You were proud to serve your country back then. Our family was very patriotic. It (the service) was difficult and exciting at the same time. I hadn't seen the world and being drafted gave me that chance," he said. "It did, however, create a real hardship here at home because with all the boys heading off to war, there was no one around to help with the farm. So, the girls had to step in."
Henry's sister, Martha, said it was difficult for the family to watch "the boys head off to war, not knowing what might happen to them."
"We were lucky to get them all back safely," she said. "We were a very close family. We still are, we all live close by. And those that left, came back to retire here."
During initial training, Henry was given a piece of advice from his superiors — to this day, he clearly remembers those words.
"They told us not to go out and get too close to anyone because on any mission, that person might be gone in a minute," Henry recalled. "That was hard because you were with these guys every minute of every day."
Henry attended airplane mechanic school in Biloxi, Mississippi, and Pratt & Whitney engine school at Chanute Field in Illinois. Next came gunnery training in Laredo, Texas. The first flight was in a two-seat trainer, open-air cockpit. Henry was in the rear seat, tied down with straps while the pilot made a few "loop the loops" to see if Henry's stomach could handle adverse conditions.
"Some guys got sick," he said. "If you didn't, you stayed with the group."
During gunnery training, Henry emerged as "a very good shot," whether he was firing a machine gun, Colt 45 or shotgun. He was assigned to a 10-man crew — the 15th Air Corp, a bombing squad — and shipped to Italy. The bombers would fly in large formations and each unit would drop their bomb load at the same time.
Henry has a log, which recorded the number of missions and "targets of opportunity" in Austria, Germany, Italy, Rumania, Yugoslavia and Greece. The 454th Bombardment Group completed 243 missions.
While on a mission in Italy, Henry's plane developed problems. He thinks the craft had taken on enemy fire, and was hit. The crew attempted to lighten the plane's load by "throwing most everything out." As the plane continued its descent, the crew was ordered to arm themselves with Colt 45s, since the pilot was unclear if the craft would land in "friendly or unfriendly" territory. The plane crashed, striking a pole. One crew member died, while two were seriously injured. Henry sustained a major back injury (which to this day continues to be bothersome), but after two weeks of rest on the Isle of Capri, he was back in the air, completing the 50-mission assignment.
Henry was discharged on Oct. 16, 1945 with the rank of Tech/Sgt. After working for a year, Henry attended the Eastern Lutheran Bible Institute in Minneapolis, Minn. He spent three years at a college seminary, and then started an unexpected career in ministry.
"Did I think I would do this? No, not at all," Henry said. "I did want to serve. My brother, Bruno, said I got to know God up there flying."
The commitment "to serve" was also passed down to his own children. Henry's son, Mark, served in the U.S. Marine Corps for five years.
"In life, there are times you need to sacrifice and do what is right," Henry said. "Our family has always been very proud of our country and the service we gave it."
When he received the Quilt of Valor, Henry was touched by the sign of appreciation bestowed upon him by a group of women he has never met.
"It means a lot," he said. "It's important to thank those who served and those who gave their lives to their country."
Please follow and like us: