Hannes wins Fryeburg Five Miler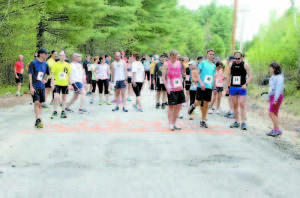 FRYEBURG — In its debut, the Fryeburg Five Miler had somewhat of a surprise ending.
The loop course traversed country roads and finished on the 2.5-mile section of the Mountain Division Rail Trail. Runners loved the vehicle free course and have marked it on their calendar for next year.
Current Fryeburg Academy track star, Eric Hannes, surprised former Raider great, Silas Eastman, in the race for overall winner. Former FA student athlete, Kyla Welch, now Kyla Brustin, won the women's overall title.
In an interesting footnote, former Fryeburg Academy cross country and track star from 60 years ago, Bob Payne, took second place honors in his age group.
Kids had a great time in their race with lollipops and medals to all finishers.
The race benefited the boys' and girls' cross country teams at Fryeburg Academy. Special thanks to Judy Reilly, race director; Pat Hannes and Loraine Tilney at the finish line; Dave Kinsman, race pacer on his bike; and Dr. Bob Tilney, who followed the field in his car for a safe finish for all.
Here's how they finished:
1. Eric Hannes, 18, Fryeburg, 28:36
2. Silas Eastman, Chatham, NH, 28:49
3. Patrick Carty, 16, Sweden, 28:58
4. Jasmin Lepir, 38, Portsmouth, NH, 29:42
5. Kyle Conforte, 57, Bridgton, 30:54
6. Lavery Floyd, 57, Westbrook, 33:10
7. Jim Carty, 44, Sweden, 33:52
8. Kyla Brustin, 33, North Conway, NH, 34:28
9. Brendan Sullivan, 51, North Conway, NH, 34:51
10. Tami Celso, 47, Intervale, NH, 36:28
11. Alan Whitley, 49, North Conway, NH, 37:56
12. Michael Simoneau, 66, Livermore, 38:03
13. Reed Wales, 16, Lovell, 38:08
14. Scott Johnson, 50, Fryeburg, 38:16
15. Darren Celso, 57, Intervale, NH, 38:58
16. Cole LeBlond, 14, Denmark, 40:31
17. Emily Carty, 13, Sweden, 40:50
18. Joe Chisari, 44, Fryeburg, 41:06
19. Cliff Graves, Fryeburg, 41:13
20. Don Dyer, 50, Fryeburg, 41:16
21. Stephanie Morin, 41, Fryeburg, 41:28
22. Cheryl Richardson, 36, Lititz, PA, 41:39
23. Walter Grzyb, 46, Lovell, 42:17
24. Kerima Lepir, 46, Conway, NH, 42:30
25. Alan Lepir, 36, Conway, NH, 42:31
26. David Fontenault, 53, Conway, NH, 42:32
27. Stephanie Gillespie, 39, Parsonsfield, 42:58
28. Steve Paddick, 54, Easton, NH, 42:59
29. Deanna Carty, 45, Sweden, 43:41
30. Greg Reinbach, 43, Fryeburg, 44:11
31. Amy Sweetser, 28, Sebago, 44:36
32. Sherri Towle, 31, Center Conway, NH, 45:20
33. John Howe, 79, Waterford, 45:40
34. Penny Ballard, 48, Fryeburg, 46:07
35. Leslie Borelli, 62, Sebago, 46:38
36. Elaine Naratil, 41, Porter, 47:10
37. Heather McLean, 19, Lititz, PA, 48:03
38. Daisy Stephenson, 57, Fryeburg, 49:24
39. Maura Sullivan, 53, Melrose, MA, 50:04
40. Karen Feeney, 40, Peabody, MA, 50:04
41. Lauri Courtney, 42, Brownfield, 50:18
42. Sara Boucher, 48, Fryeburg, 50:45
43. Christopher Kanzler, 61, Center Conway, NH, 51:29
44. Ethan Reinbach, 12, Fryeburg, 53:37
45. Bob Payne, 75, Raymond, 55:13
46. Nelson Whitney, 25, Fryeburg, 59:29
47. Debbie Howe, 68, Waterford, 1:01.37
48. Susan Perry, 47, Chatham, NH, 1:26.22
Age Division winners
Female
11-13: Emily Carty, 13, 40:50
14-16: No entry
17-19: Heather McLean, 19, 48:03
20-29: Amy Sweetser, 28, 48:03
30-39: Cheryl Richardson, 36, 41:39; Stephanie Gillespie, 39, 42:58
40-49: Tami Celso, 47, 36:28; Stephanie Morin, 41, 41:28
50-59: Daisy Stephenson, 57, 49:29; Maura Sullivan, 53, 50:04
60-69: Leslie Borelli, 62, 46:38; Debbie Howe, 68, 1:01.37
Male
11-13: Ethan Reinbach, 12, 53:37
14-16: Patrick Carty, 16, 28:58; Reed Wales, 16, 38:08
17-19: Silas Eastman, 19, 28:49
20-29: Nelson Whitney, 25, 59:29
30-39: Jasmin Lepir, 38, 29:42; Alan Lepir, 36, 42:31
40-49: Jim Carty, 44, 33:52; Alan Whitney, 49, 37:56
50-59: Kyle Conforte, 57, 30:54; Floyd Lavery, 57, 33:10
60-69: Michael Simoneau, 66, 38:03; Christopher Kanzler, 61, 51:29
70-Plus: John Howe, 79, 45:40; Bob Payne, 75, 55:13
Please follow and like us: