Guard: 'Chance to give back,' platoon launches Casco project's Phase 1
By Wayne E. Rivet
Staff Writer
CASCO — As Sam Dash looked up, he saw some kids playing baseball on the nearby diamond.
It brought back fond memories of when he was a young boy.
"I played baseball as a kid and I always look back on those memories. It's nostalgic being out here," said Dash, who at age 21 is a member of the Maine National Guard. "It's nice to give something back to the community. We're helping to build more memories for others."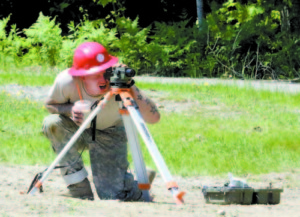 Dash and 28 other soldiers of the 136th Engineer Battalion spent two weeks at the old Casco Memorial School site to build a new concession stand, as well as lay the sideboards for a cement pad, which will be the site of a future pavilion.
About a year and a half ago, the Casco Board of Selectmen charged the Rec Department to develop a plan for the school property. A subcommittee was formed from a combination of the Parks and Recreation members. Those members included Alison Duprey, Rosemarie Snow, Matt Hancock, Bob and Livvy Francis, and Paula Grace.
A final plan, outlining four phases, was eventually brought to selectmen for approval.
Rec Director Beth Latsey says the project includes a concession building, a pavilion, playground, a paved walking trail, an improved parking lot and multipurpose field.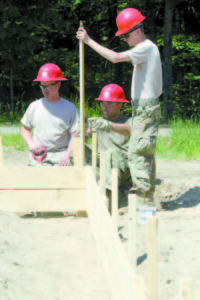 "We had two goals. One, to make sure the park provided opportunities for all ages of the community — a place to visit, play and socialize; and two, always be mindful of the taxpayers," Latsey said prior to Opening Day of construction. "Overall, it's a project for all ages."
Latsey recognized the efforts of volunteers such as Wendy Betts-Greenlaw, who is a member of the community and a professional grant writer.
"We were able to address our second goal because of Wendy — she has done amazing things, going outside of the box, and helping to get the application approved by the IRT (the Innovative Readiness Training Program involving the National Guard)," Latsey said.
Some existing Rec capital funds have been used, while the project will also draw funding from the Land Water Conservation Fund, Community Development Block Grant and the Hancock Charitable Trust.
Staff Sergeant Angela Parady, who works for the Public Affairs NCO Maine National Guard 121st Public Affairs Detachment, said when it comes to IRT projects or any training that the Maine Army National Guard conducts, it comes down to the quality of training that will be received.
The IRT program was created by federal statute, and it authorizes the National Guard to pursue quality military training opportunities that also benefit the local community. All municipalities and many nonprofit agencies are eligible to request support under this program, Staff Sgt. Parady said. Approval is not guaranteed and the process can be lengthy.
"These civil-military community projects provide a tremendous benefit to our soldiers in terms of training and service to the communities of Maine," Parady said.
Program requirements include evaluating environmental impacts, cost, feasibility and legality, as well as the overall training value of the project to the soldiers involved.
"Our mission is always to have units that are fully-trained and always ready," Parady added. "These projects are one way in which we can do that."
At this time, the Guard is working on projects at Casco Bay and Camp Susan Curtis in Stoneham, which is the location many soldiers working in Casco headed to at the end of the day, rather than return to their homes.
The Casco project was a two-week event, involving 29 soldiers. The 136th Engineer Batallion consists of masons, plumbers, electricians, contractors and heavy equipment operators from across the state. Some soldiers were on the job site as part of their "drill weekend," while others are full-time Guardsmen.
Platoon Sgt. Kevin Sirois said the concession stand was designed by Sebago Technics. It is 16-feet by 30-feet, and includes a four-foot overhang in the serving window area. Vinyl siding was used, something Guardsmen don't often work with.
A veteran of 17 years in the Guard, Sgt. Sirois said the platoon is a nice mix of experienced tradesmen and newcomers.
"Projects like these give our younger soldiers an opportunity to get hands-on training with experienced personnel. We don't get the opportunity to work on brand new things. Most of our work is renewal projects. This is start-to-finish, hands-on work," he said. "I decided to join when I was a junior in high school. My actual first intent was to help with college. A lot of people who get into the Guard or Reserves are looking for college money — you can do your weekend time or also do college experience as well. I didn't actually go to college. I work construction in the real world, and a lot of civil engineering construction, as well. This has been a good fit for me."
Sgt. Sirois said the goal of the training exercise is for younger soldiers being able to do what experienced soldiers do — to be able to fill current leaders' spots in the future.
Sgt. Chad Merrill is a full-time Guardsman, and joined because of "some great educational benefits."
"It also gives us an opportunity to show what we can do as engineers," he said. "I like the camaraderie with our fellow soldiers. We have an opportunity to share our knowledge between each other. Because of the different people we have here — plumbers, electricians, contractors — when we go to a job site, we can complete whatever task is assigned to us."
Guardsman Keith Kitchens of Brunswick is an electrician by trade.
"I have a few friends who serve in the Guard and they kind of talked me into it. It actually turned out to be a great opportunity," said Kitchens, who has been with the Guard for five years. "Working as a team, being with these guys, you can't find anything like it."
He added, "I hope that the families and kids will now have a great experience when they come to this park. I am huge into sports, so this is awesome. I came from a big sports town, Brunswick, so I know how concessions can bring in a little extra money for programs."
Kitchens says his day starts at 5 a.m. when trucks are loaded with materials at the home base in Lewiston and ends about 4:30 p.m. when soldiers pick up their tools and secure the work site before heading home.
"We're all hardworking," he added. "I have a few years left on my contract, and when it's up, I'll see where my career is. I'm probably in for the long haul."
Sam Dash of Portland saw the Guard as a place to find out what career path he might follow.
"I really didn't know what I was going to do after high school because I am not really a school kind of guy," he said. "I figured I needed to do something after high school. I contacted a recruiter and he hooked me up with this job. I like that we are outside a lot. I never knew anything about carpentry until I joined the Guard. I'm learning a trade."
Four years in as a Guardsman, Dash enjoys being a member of "the team."
"We all lean on each other because we have different skill sets. I love the teamwork on these projects. We're building friendships out here. I'm with a good group of guys," he said.
Please follow and like us: