Gregg E. Belanger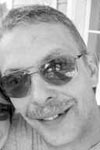 BUCKFIELD — Gregg Eugene Belanger, 51, passed away April 20, 2011 unexpectedly at his home.
He was born Feb. 23, 1960, in Meriden, Conn., the son of Robert and Emma (Parker) Belanger.
A longtime employee at Bath Iron Works, he was always very proud of his work.
Gregg's many hobbies included boating, canoeing down the Saco River, holiday gatherings, cooking, and caring for his animals. He enjoyed being with his loved ones and his daughter, Cassi, who was like his right hand. He will be most remembered for his vivacious, roaring laugh and the nicknames he had for those around him.
He is survived by his mother, Emma Belanger of Lewiston; his fiancée and love of his life, who he was to remarry on May 14, Denise Belanger; his three children, Cassi Lynn Belanger of Auburn, Brandon Belanger of Jay and Alicia Belanger of Jay; and their mother, Bonnie Belanger-Beaulieau of Livermore Falls; two stepsons, Louis Rubino and Chad Rubino, both of Auburn; two sisters, Cathi Waterman of Old Orchard Beach and Lynn Curran-Sargent of Waterford; two grandsons; and several nieces and nephews, who knew him as "Uncle G."
He was predeceased by his father, Robert Belanger; and his maternal and paternal grandparents.
Family and friends may offer their condolences to the Belanger family by visiting www.thefortingroupauburn.com
Visitation was held Tuesday at Fortin Group Funeral Home in Auburn, where a funeral service was held Wednesday. Interment will be private.
Memorial donations may be made to the Disabled American Veterans, P.O. Box 14301, Cincinnati, OH 45250-0301, Attn: Gift Processing.
Arrangements were by Fortin Group/Plummer & Merrill Funeral Home, Cremation and Monument Services, 217 Turner Street, Auburn.
Please follow and like us: