Great Adventure Challenge puts athletes to the ultimate test

By Wayne E. Rivet
Staff Writer
Megan Greszler was looking for the "ultimate father-daughter bonding experience" and found it Saturday in West Bridgton.
Megan and her father, Tim, drove to Maine from Ohio to compete in the annual Great Adventure Challenge (GAC) triathlon, which benefits Good Neighbors.
"My cousins live in Brunswick and had told me about it (GAC). I had been looking for a new/different race to try. After a little begging, my father agreed to do it with me," Megan said.
Like many competitors who attempt to conquer the 2.5-mile kayak on Moose Pond, the 16-mile mountain bike along logging trails and through mud holes, and the brutal 2-mile hike up Pleasant Mountain, Megan and Tim's goal was quite simple — finish.
"Since this was our first year and first time attempting something like this, completing the course was our main goal," she said.
The field included a number of "veterans," including Emily Hursty of Hamilton, Mass., who was making her fourth appearance in five years (she had to miss 2012 because one of her best friends got married that day).
"I first signed up in 2010 because my aunt and uncle were volunteering and it looked like fun. Little did I know how challenging it would be," she said. "Now, I look forward to it every year. It is hands down my favorite race of the year."
Peter Paveglio of Simsbury, Conn. was searching the Internet for a race that would motivate him and his friends to train.
"One or more of us have done the race every year since then (for Pete, his fifth year and his cousin, his sixth try). Our goal is to have fun, finish all three disciplines and try to improve on race times year to year," he said. "I enjoy the physical challenge every year, seeing the same good people over and over, and the good vibe at this race."
Jennifer Genovese of Windham made her fourth trip to the Great Adventure Challenge.
"I first tried this race because it was different than the traditional triathlon (swimming is definitely not my thing so the traditional 'tri' would never work for me). It offered all the things I like — kayak, mountain biking and hiking/trail running. When I found this event, I was hooked," she said. "Each year my goal is to try and improve my times. Winning first or breaking a course record would be nice too."
Another strong field of competitors ventured onto Alpine Beach by just past 9 a.m., tucked themselves into their kayaks and paddled out to the virtual starting line. Many scanned the magnificent view as they awaited Race Director Rob Knowles' triggering of the cannon.
To the right, they saw towering Pleasant Mountain.
Straight ahead, they could see a loon and her chick gliding slowly across the still water.
Some hoped they might catch a glimpse of the moose, which had been spotted on the bike course.
Others thought about the daunting task ahead of them.
"My goal every year is to finish unscathed, but this year, I really focused on not being too timid on the bike. I only mountain bike once a year (at this race) so I am by no means a pro, but now that I feel more comfortable with the race and the bike course, I really wanted to push myself on the bike," Hursty said. "It worked because I was first in my age group!"
At 9:15, the cannon roared and the challenge was on.
Some athletes put themselves up to the ultimate test — tackling all three phases of the event alone.
Others were part of a team, either placing all their energy and focus into one or possibly two events.
The Challenge got off to a rocky start for one competitor, whose kayak capsized shortly after the start. GAC personnel cruised to the scene and helped the racer back into the boat.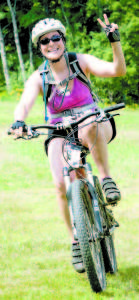 "I have to admit that had me a little worried," Genovese said. "I had never seen anyone have trouble during the kayak portion and never really thought about it being an issue."
Former Lovell Rec Director Michael Mendonca set the pace early, opening a wide lead over the field with authority and precision, while others took a more laidback approach. Two young ladies, wearing tiaras and long white gloves as part of their "princess" theme, sang a variety of songs as they passed one marker. They were still smiling and singing in their approach to the Alpine Beach finish.
Some competitors argue that the toughest segment of the race was next — the bike trek, specifically Pratt's Hill.
"The toughest part had to have been the hill in the mountain bike course. It took a fair amount of energy and strained your body. Then, you had a rest afterwards, just to be followed by an even bigger hill," Greszler said.
Heavy rain during the week created several mud holes, which riders had to pedal through. One rider had the unfortunate moment of sinking and falling into the murky water.
"I actually loved the HUGE mud puddles out on the bike course," Hursty said. "It was so wet this year, but it made for fun surprises around every corner!"
Genovese loves to mountain bike and found the GAC course "takes you through areas you never typically see."
"When you are at the very backside of the mountain, looking up, it is pretty cool!" she said.
Once the ride was complete, athletes summoned their remaining energy to climb Pleasant Mountain.
"The toughest part of the race for me is the first half of the climb up the mountain. I was pretty spent at this point and there is literally a mountain in my face for the first part of the climb," Emily Hursty said. "I made a point this year to walk up backwards from time to time so I could enjoy the view of the lakes and mountains in the distance and not focus on how hard the climb was."
Few ran the entire trail to the summit, where GAC volunteer Dan Gyger handed out Gatorade or water, and "punched" a hole in the competitors' lanyards, which dangled from around their necks.
"I will always remember getting my lanyard punched at the top of the mountain. This is really the moment that signifies that I was lucky enough to be able to physically and mentally conquer this race for another year," Hursty said. "All of the truly hard work is done at this point and all that is left is a short jog down to the finish line."
Although many were breathing hard and fighting tightness in their calf muscles, they still managed words of encouragement for others who were either passing them along the grassy or rocky ledge trail or heading down the hill.
"You're doing great!"
"Hang in there, you are almost to the top!"
"It's a lot easier going down the hill!"
"I sure have a better appreciation as to how high this mountain really is."
The trip down the hill was a major relief for all.
"Reaching the top of the mountain, at that point, it was all down hill and we literally gave a sigh of relief," Greszler said.
The Pleasant Mountain hike is somewhat of a love-hate moment for competitors.
"By this time my legs are pretty tired, but at the same time it is a great feeling to know this is the last event," Genovese said.
The moment Peter Paveglio will always remember is "the view coming down the mountain to the finish with people cheering, band playing and the smell of cheeseburgers on the grill! Doesn't get any better."
Race Director Rob Knowles reported the Challenge will raise between $7,000 to $8,000 this year for Good Neighbors — to provide opportunities for adults with mental retardation and autism.
"There were tons of donations," Knowles said. "The volunteers were unbelievable. This is an event that is really starting to draw spectators that are unrelated to competitors. I couldn't be happier."
Racers couldn't speak more highly about how well the race was run and how impressed they were with the people associated with the event.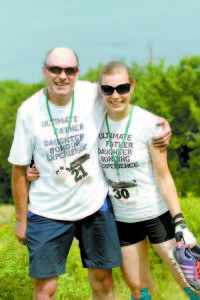 "As long as I am able-bodied, I plan to continue attending this great race," Jennifer Genovese said. "Thank you to Rob Knowles and all of the volunteers who make it possible."
Allan Lobozzo of New Gloucester said, "A gorgeous paddle, a diverse and challenging mountain bike ride, an in-your-face ascent of Pleasant Mountain and a teeth-rattling descent — whatta' great way to spend a Saturday! Thanks to organizers and big gracia mucho to volunteers of the Great Adventure Challenge."
The Challenge also left a lasting impression of Megan and Tim Greszler.
"We cannot say enough about how great this Challenge was along with the staff, volunteers and other competitors. The GAC isn't like most races and competitions. Everyone is actually friendly and extremely supportive," Greszler said. "At one point, my dad had a flat tire and thanks to another competitor, it was changed in no time. On top of that, the volunteers and other competitors were constantly giving everyone support and encouragement, something you don't typically see." Once one has experienced the Great Adventure Challenge, it is hard not to look forward to the next one.
"Whether you are competing or completing, you will not be disappointed. The Challenge itself is amazing, combine that with the excellence of the staff and the friendliness of the other participants, this was well worth the travel," Megan Greszler said. "We cannot wait to participate next year."
GREAT ADVENTURE CHALLENGE RESULTS
THE KAYAK
1. Life is Good, 25:34
2. Still the Gimps, 25:48
3. 2 Brits & a Venezuelan, 26:28
4. John Plunket, 26:40
5. TRT, 26:44
6. Mike Adams, 26:52
7. Kevin Callahan, 27:06
8. Chris McCarthy, 27:32
9. David Moore, 27:48
10. Nature Trekkers, 28:04
11. Allan Lobozzo, 28:05
12. Mike Dragoon, 28:07
13. Superflies II, 28:12
14. Tamponeers, 28:17
15. Clarke Beaudry, 28:46
16. Brian Edwards, 29:04
17. Craig Marden, 29:17
18. Mike McLeod, 29:21
19. TJ O'Connell, 29:34
20. Jeremy Twombly-Wiser, 29:39
21. Ryan Paveglio, 29:46
22. Daniel Lawrence, 29:56
23. Mountain Goats, 30:14
24. Twisted Knee Brew Crew, 30:32
25. Ralph Colarusso, 30:39
26. Josh Harrington, 30:45
27. John Hollis, 30:45
28. Sheila Weeman, 31:10
29. Michael Landers, 31:17
30. Patrick Sansonetti, 31:22
31. Barry Towle, 31:28
32. POTMC, 31:50
33. Christina Stack, 32:00
34. Glen Roy, 32:03
35. Richard Chammings, 32:05
36. Tim Merchant, 32:09
37. Kristina Sabasteanski, 32:14
38. Robert Bernier, 32:17
39. BRB, 32:18
40. Adam Gagne, 32:20
41. Leah Chamberlin, 32:23
42. Bryan Brackett, 32:24
43. Kool Kats, 32:27
44. N Double J'ss, 32:35
45. Peter Paveglio, 32:42
46. John Dagostino, 32:46
47. Kelly Edwards, 33:04
48. Jennifer Saric, 33:23
49. The B Team, 33:27
50. Stephanie Dragoon, 33:32
51. Chris Roy, 33:58
52. Team Sarris, 34:04
53. Glenny & the Jets, 34:25
54. The Rockets, 34:44
55. Patrick Waiit, 34:45
56. Chantelle LeBlanc, 34:50
57. Jennifer Genovese, 34:51
58. Michael Murrin, 35:03
59. Andree Pride, 35:06
60. The Lakers, 35:16
61. Atomic X, 35:48
62. David Peck, 36:01
63. Alexander Kotz, 36:34
64. 2 Black Eyes & a Rub Burn, 36:37
65. Tim Greszler, 37:08
66. Andrew Norkin, 37:44
67. Glenn Kotz, 37:57
68. Thomas Chandler, 38:22
69. Emily Hursty, 38:31
70. Go Rangers, 38:50
71. Samantha Buckenmaier, 39:03
72. Susan Buckenmaier, 39:08
73. Galway Gladiators, 39:44
74. David Kell, 39:52
75. Wait for It, 39:56
76. Megan Greszler, 40:57
77. Chace Conroy, 42:08
78. Rosemarie Chandler, 42:11
79. Crew 222, 42:50
80. Jeff White, 45:07
Leaders
Women 17-34: Jenifer Saric
Women 34-49: Sheila Weeman
Women 50+: Andree Pride
Men 17-34: Chris McCarthy
Men 35-49: John Plunket
Men 50+: Mike Adams
Team 51-100: 2 Brits & Venezuelan
Team 101-150: Life is Good
Team 151-200: Still the Gimps
(Team is age totals)
THE BIKE
1. TRT, 1:08.05
2. Brian Edwards, 1:12.07
3. David Moore, 1:16.12
4. Kevin Callahan, 1:17.30
5. Chris Roy, 1:18.10
6. Tamponeers, 1:18.23
7. Still the Gimps, 1:21.37
8. Ralph Colarusso, 1:22.50
9. Allan Lobozzo, 1:23.19
10. Mike McLeod, 1:24.41
11. David Kell, 1:25.51
12. Kelly Edwards, 1:26.08
13. Jennifer Genovese, 1:26.13
14. Wait for It, 1:27.49
15. Patrick Waitt, 1:27.58
16. Mountain Goats, 1:28.23
17. BRB, 1:28.34
18. John Plunket, 1:28.44
19. Barry Towle, 1:29.17
20. John Hollis, 1:30.09
21. Patrick Sansonetti, 1:30.12
22. Crew 222, 1:32.31
23. Glenn Kotz, 1:32.32
24. Atomic X, 1:33.13
25. Craig Marden, 1:33.18
26. Alexander Kotz, 1:33.50
27. 2 Black Eyes & A Rub Burn, 1:36.23
28. Tim Merchant, 1:36.29
29. Andree Pride, 1:36.34
30. POTMC, 1:37.01
31. Chris McCarthy, 1:38.32
32. Twisted Knee Brew Crew, 1:38.36
33. Richard Chammings, 1:39.22
34. Kristina Sabasteanski, 1:39.41
35. Mike Adams, 1:40.18
36. TJ O'Connell, 1:40.33
37. John Dagostino, 1:40.48
38. Leah Chamberlin, 1:40.57
39. The B Team, 1:41.00
40. Ryan Paveglio, 1:41.04
41. Galway Gladiators, 1:41.08
42. Daniel Lawrence, 1:42.23
43. Go Rangers, 1:43.39
44. David Peck, 1:43.59
45. Robert Bernier, 1:44.04
46. Bryan Brackett, 1:44.42
47. Michael Murrin, 1:45.01
48. Life is Good, 1:47.00
49. Glen Roy, 1:47.18
50. Peter Paveglio, 1:47.33
51. Team Sarris, 1:48.40
52. Superflies II, 1:49.10
53. Josh Harrington, 1:53.42
54. Adam Gagne, 1:53.42
55. Clarke Beaudry, 1:54.24
56. Christina Stack, 1:56.45
57. Jeremy Twombly-Wiser, 1:57.52
58. The Lakers, 1:58.02
59. Sheila Weeman, 1:58.37
60. Andrew Norkin, 1:58.42
61. Sheri Buck, 1:59.42
62. Chantelle LeBlanc, 2:00.07
63. Michael Landers, 2:00.37
64. Emily Hursty, 2:01.14
65. Jennifer Saric, 2:02.16
66. Mike Dragoon, 2:04.21
67. Nature Trekkers, 2:05.19
68. Kool Kats, 2:07.47
69. N Double J's, 2:07.55
70. Megan Greszler, 2:08.40
71. Tim Greszler, 2:12.31
72. Stephanie Dragoon, 2:13.01
73. 2 Brits & a Venezuelan, 2:14.26
74. The Rockets, 2:24.32
75. Glenny and The Jets, 2:24.57
76. Chace Conroy, 2:40.57
77. Rosemarie Chandler, 2:41.07
78. Samantha Buckenmaier, 2:44.12
79. Susan Buckenmaier, 2:44.14
80. Thomas Chandler, 2:44.49
Leaders
Women 17-34: Emily Hursty
Women 34-49: Kelly Edwards
Women 50+: Andree Pride
Men 17-34: Chris Roy
Men 35-49: Brian Edwards
Men 50+: Kevin Callahan
Team 51-100: BRB
Team 101-150: TRT
Team 151-200: Still the Gimps
THE HIKE
1. The B Team, 23:31
2. Tamponeers, 24:18
3. Still the Gimps, 25:35
4. Life is Good, 27:32
5. Wait for It, 27:40
6. 2 Brits & a Venezuelan, 28:40
7. Twisted Knee Brew Crew, 29:42
8. TRT, 31:21
9. POTMC, 31:48
10. N Double J's, 32:00
11. Allan Lobozzo, 32:18
12. Kevin Callahan, 32:55
13. The Rockets, 33:41
14. 2 Black Eyes & A Rub Burn, 33:44
15. Brian Edwards, 33:54
16. Crew 222, 34:12
17. Mountain Goats, 34:31
18. David Moore, 34:33
19. Kelly Edwards, 34:43
20. Atomic X, 35:51
21. Superflies II, 35:52
22. Chris Roy, 35:55
23. Galway Gladiators, 36:38
24. David Kell, 37:49
25. Mike McLeod, 38:02
26. John Plunket, 38:14
27. Jennifer Genovese, 38:48
28. Patricki Sansonetti, 39:02
29. Tim Merchant, 39:04
30. Ralph Colarusso, 39:43
31. Kristina Sabasteanski, 39:50
32. Mike Adams, 40:13
33. Jennifer Saric, 40:38
34. Kool Kats, 40:42
35. Patrick Waiit, 40:53
36. Andree Pride, 41:37
37. John Hollis, 42:13
38. Team Sarris, 42:46
39. Go Rangers, 42:53
40. Ryan Paveglio, 43:12
41. Michael Murrin, 44:06
42. David Peck, 44:17
43. The Lakers, 44:46
44. Barry Towle, 44:48
45. TJ O'Connell, 45:36
46. Leah Chamberlin, 45:40
47. Sheila Weeman, 45:43
48. Chris McCarthy, 47:29
49. Jeremy Twombly-Wiser, 47:44
50. Daniel Lawrence, 49:53
51. Richard Chammings, 50:06
52. Josh Harrington, 50:11
53. Sheri Buck, 50:17
54. Nature Trekkers, 50:48
55. Stephanie Dragoon, 51:09
56. Peter Paveglio, 51:36
57. Chantelle LeBlanc, 52:08
58. Bryan Brackett, 52:18
59. Emily Hursty, 54:08
60. John Dagostino, 55:17
61. Craig Marden, 56:30
62. Adam Gagne, 557:20
63. Megan Greszler, 57:29
64. Tim Greszler, 57:30
65. Andrew Norkin, 58:49
66. Robert Bernier, 1:00.57
67. Glenny and The Jets, 1:01.05
68. Christina Stack, 1:01.37
69. BRB, 1:04.43
70. Mike Dragoon, 1:05.17
71. Michael Landers, 1:05.24
72. Alexander Kotz, 1:05.59
73. Glenn Kotz, 1:06.00
74. Thomas Chandler, 1:06.00
75. Clarke Beaudry, 1:08.46
76. Susan Buckenmaier, 1:11.00
77. Samantha Buckenmaier, 1:11.04
78. Glen Roy, 1:11.43
79. Rosemarie Chandler, 1:18.04
80. Chace Conroy, 1:18.12
Leaders
Women 17-34: Jennifer Saric
Women 34-49: Kelly Edwards
Women 50+: Andree Pride
Men 17-34: Chris Roy
Men 35-49: Brian Edwards
Men 50+: Allan Lobozzo
Team 51-100: 2 Brits & a Venezuelan
Team 101-150: The B Team
Team 151-200: Still the Gimps
OVERALL STANDINGS
1. TRT, 2:06.10
2. Tamponeers, 2:10.58
3. Still the Gimps, 2:13.00
4. Brian Edwards, 2:15.05
5. Kevin Callahan, 2:17.31
6. David Moore, 2:18.33
7. Allan Lobozzo, 2:23.42
8. Chris Roy, 2:28.03
9. Mike McLeod, 2:32.04
10. Mountain Goats, 2:33.08
11. Ralph Colarusso, 2:33.12
12. John Plunket, 2:33.38
13. Kelly Edwards, 2:33.35
14. Wait for It, 2:35.25
15. The B Team, 2:37.58
16. Twisted Knee Brew Crew, 2:38.50
17. Jennifer Genovese, 2:39.52
18. Life is Good, 2:40.06
19. Patrick Sansonetti, 2:40.36
20. POTMC, 2:40.39
21. John Hollis, 2:43.07
22. David Kell, 2:43.32
23. Patrick Waiit, 2:43.36
24. Atomic X, 2:44.52
25. Barry Towle, 2:45.33
26. 2 Black Eyes & A Rub Burn, 2:46.44
27. Mike Adams, 2:47.23
28. Tim Merchant, 2:47.42
29. Crew 222, 2:49.33
30. Kristina Sabasteanski, 2:51.45
31. Superflies II, 2:53.14
32. Andree Pride, 2:53.17
33. Chris McCarthy, 2:53.33
34. Ryan Paveglio, 2:54.02
35. TJ O'Connell, 2:55.43
36. Galway Gladiators, 2:57.30
37. Leah Chamberlin, 2:59.00
38. Craig Marden, 2:59.05
39. Richard Chammings, 3:01.33
40. Daniel Lawrence, 3:02.12
41. Michael Murrin, 3:04.10
42. David Peck, 3:04.17
43. Go Rangers, 3:05.22
44. Team Sarris, 3:05.30
45. BRB, 3:05.35
46. John Dagostino, 3:08.51
47. Bryan Brackett, 3:09.24
48. 2 Brits & a Venezuelan, 3:09.34
49. Peter Paveglio, 3:11.51
50. N Double J's, 3:12.30
51. Josh Harrington, 3:14.38
52. Jeremy Twombly-Wiser, 3:15.15
53. Sheila Weeman, 3:15.30
54. Jennifer Saric, 3:16.17
55. Alexander Kotz, 3:16.23
56. Glenn Kotz, 3:16.29
57. Robert Bernier, 3:17.18
58. The Lakers, 3:18.04
59. Kool Kats, 3:20.56
60. Adam Gagne, 3:23.22
61. Nature Trekkers, 3:24.11
62. Chantelle LeBlanc, 3:27.05
63. Christina Stack, 3:30.22
64. Glen Roy, 3:31.04
65. Clarke Beaudry, 3:31.56
66. The Rockets, 3:32.57
67. Emily Hursty, 3:33.53
68. Andrew Norkin, 3:35.18
69. Michael Landers, 3:37.18
70. Stephanie Dragoon, 3:37.42
71. Mike Dragoon, 3:37.45
72. Megan Greszler, 3:47.06
73. Tim Greszler, 3:47.09
74. Glenny and The Jets, 4:00.27
75. Thomas Chandler, 4:29.11
76. Samantha Buckenmaier, 4:34.19
77. Susan Buckenmaier, 4:34.22
78. Chace Conroy, 4:41.17
79. Rosemarie Chandler, 4:41.22
Leaders
Women 17-34: Jennifer Saric
Women 35-49: Kelly Edwards
Women 50+: Andree Pride
Men 17-34: Chris Roy
Men 35-49: Brian Edwards
Men 50+: Kevin Callahan
Team 51-100: Atomic X
Team 101-150: TRT
Team 151-200: Still the Gimps
Please follow and like us: