Gordon W. Brill, 94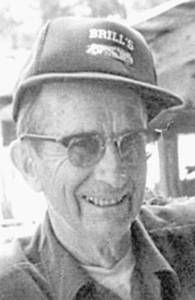 Gordon W. Brill, 94, of Bridgton, died Friday, Sept. 14, 2012, at his home. He was born in Bridgton March 27, 1918, the son of John P. and Ada L. Noyes Brill. He graduated from Bridgton High School. He worked many jobs throughout his life, as a machinist working for Southworth during the war and then for Dielectric, retiring in 1980,  and then continuing with his lifetime farming and running his own lumber company, which is known today as Brill Lumber. He was a member of the National Rifle Association and the Farm Bureau.
He is survived by his wife of 69 years, Eugenie; daughter Janet Lawrence and husband Neil, son Stephen Brill and wife Joann, and daughter Pamela Dyer and husband Roderick and son Scott Brill; grandchildren Jeffrey Lawrence, Jonathan Brill, Stephanie Brill, Jennifer Googoo, and Nicholas Dyer; great-grandchildren Kristi Lawrence Hobbs, Ashley Lawrence, Mathew Brill, and Bella Brill; and many nieces, nephews and caregivers. He was predeceased by a son Harry Brill, and granddaughter Rebecca Googoo. Online condolences may be shared with the family at www.chandlerfunerals.com
Family and friends attended funeral services Tuesday at 2 p.m. at Chandler Funeral Home & Cremation Service, 8 Elm Street, Bridgton, with interment to follow at Forest Hills Cemetery.
Please follow and like us: