Gloria Buffington, 75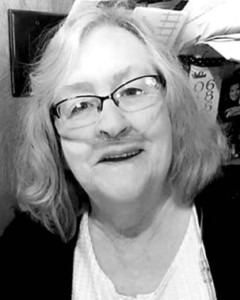 LOVELL — Gloria Ann (Lawrence) Buffington of Lovell, 75, died on Tuesday, May 22, 2018, surrounded by her large, loving family, her flip-flops and her coffee.
Gloria was born in St. Albans on July 24, 1942, the daughter of Florence and Eugene Lawrence. She was the youngest of five children. She married the love of her life, Harry Alexander Buffington Jr., and they raised 10 children and two grandchildren together. While raising her large family, Gloria also worked as a housekeeper at Severance Lodge on Kezar Lake for more than 30 years.
Gloria's best friend was her older sister, Mabel Stadig of St. Albans. The two of them loved exchanging books and puzzles, phone calls discussing Dancing with the Stars, family reunions, and lots of birthdays together with Mabel and Gloria's niece, Marie.
Gloria loved collecting roosters and flip-flops, knitting with dear friends Marcia and Dale, and the flower garden that her husband made for her. Every year, the family kept adding flowers, much to her delight. She loved knitting socks, mittens, hats and blankets for her ever-expanding family. Gloria also cherished the times when she and Harry would pack up the camper with tents, put all the kids in the car, and camp for a weekend or longer in the Notch or in northern Maine. Fishing, catching frogs, camp fires, and playing cards by lantern light were favorite activities.
She was predeceased by her husband, Harry and son, Brian.
She is survived by children Dennis of North Conway, N.H., Pamela of Bowdoinham, Debbie of Bridgton, Holly Morse of Lovell, Tina Fox of Oxford, Susan of Fryeburg, Tammy of California, Wendy Stearns of Waterford, and Rachael of Fryeburg; 22 grandchildren and eight great-grandchildren.
Donations in her memory may be made to any local family fostering children. The Buffington family can be notified of this by contacting Holly Morse, 52 Nut Hatch Road, Lovell, ME 04051.
Please follow and like us: