Geraldine Shimamura, 79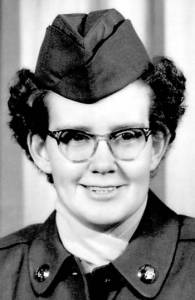 Geraldine Jean Galvin Shimamura, 79, passed away on Saturday, May 3, 2014.
Born in Concord, N.H., she was the daughter of Thelma I. Bond and William Galvin.  "Gerry" was educated in New Hampshire, Massachusetts, Florida and Maine. She graduated from Gould Academy in 1953, joining the Army (WAC) and serving in Virginia, Kentucky, Washington and Japan, attaining the rank of E.5. She served as a cook and baker.
She met her husband Ryozo, "Joe," of Hamamatsu, while stationed at Camp Zama, Japan. They were married Dec. 1, 1959, in Yokohama, Japan. After leaving the military, Joe and Gerry settled on the family farm in N.W. Bethel. There, they raised their sons William Yasohachi and Jody Kazuo and cared for Gerry's mother, Thelma, and stepfather Zenas Merrill.
Gerry was employed at the Bethel Inn as a cook, as well as Gould Academy and Telstar as a baker, and E.B.S. as a cook for a total of 20 years. In her later years, she was a volunteer driver for Community Concepts and was a volunteer with Androscoggin Home Care & Hospice since 2006.
Gerry was a member of the Bethel Nazarene Church, where she held a local minister's license, was a Bible teacher, and church secretary. Fishing, gardening and woodcrafting were some of her hobbies. Gerry's motto was "Life is a wonderful adventure, hang on for a terrific ride."
Gerry leaves behind her loving husband of 54 years; two sons, William and Jody; and 12 grandchildren.
She was predeceased by her parents; stepfather; and granddaughter.
Hours of visitation will be held at the Bethel Alliance Church on Friday, May 16 from 6 to 8 p.m. Funeral services will be held at the church on Saturday, May 17 at 2 p.m., with Pastors Chuck Mason and Peter Carter officiating. A time of refreshment and conversation will follow.
Memorials in her memory may be sent to Androscoggin Home Health and Hospice, 15 Strawberry Avenue, Lewiston, Maine 04240
Arrangements by Cliff Gray Cremation & Funeral Service, 60 Andrews Road, Bryant Pond.
Please follow and like us: