George W. Dubreuil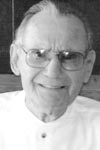 WINDHAM — George W. "Tex" Dubreuil, 93, died Sunday, April 3, 2011.
He was born in Brunswick on Nov. 25, 1917, a son of George and Florence Nadeau Dubreuil. Tex attended Catholic schools in Brunswick and then enlisted in the U.S. Army, serving in WWII in the military police. During this time, he was awarded the Good Conduct Medal, the American Campaign Medal and the WWII Victory Medal. After the war, he joined the Civilian Conservation Corp, which is where he met his wife Ethelyn.
Tex spent most of his life working as a plumber. He was active in the Windham Assembly of God Church, where he served as a deacon. Tex also helped to construct the church building. He was a musician, playing in the Country Ramblers and eventually played in the music ministry for his church. Tex played the guitar, drums and the harmonica. Being the kind man that he was, he liked to repair items to help out people and was known for assisting the needy. He always enjoyed auto racing and eventually became the photographer for Oxford Plains Speedway.
Tex was predeceased by his first wife, Ethelyn; a son, Dennis; and his second wife, Nellie Linscott.
Survivors include his sons, Kerry, Kevin and Keith Dubreuil; daughters, Loretta Towne (previously of Bridgton), Donna Lewis, Julia Grass and Jill Bernard of Casco; a sister, Janette Schinck; 13 grandchildren, 14 great-grandchildren and two great-great-grandchildren.
Visiting hours were held on Wednesday, April 6 at the Dolby Funeral Chapel, 434 River Road, Windham. A memorial service will be held on Thursday, April 7 at 10:30 a.m. at the Windham Assembly of God Church, Route 302, Windham.
In lieu of flowers, donations in his memory may be made to Windham Christian Academy, Route 302, Windham, ME 04062.
Please follow and like us: