George R. Warren Sr.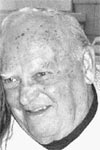 BRIDGTON — George R. Warren Sr., 83, of Naples died Thursday, Sept. 22 at the Maine Veterans Home. He was born in Manchester, N.H. on Feb. 22, 1928, the son of Joseph and Mary Kane Warren. He had been employed as a manager for Sebago Shoe Company for 28 years. He faithfully served in the U.S. Navy. He married June Flaherty in 1952. He enjoyed playing golf and was a member of the Bridgton Highlands Club.
He is survived by his wife of Naples; children, Joseph and Nancy Warren, Debbie and Eric Hoy, Kathy and Pete Walker, Michael and Darlene Warren, David and Sandra Warren, Dan and Beth Warren, George Jr. (G.B.) and Ruth Warren, John (J.R) and Melissa Warren, Fred and Heidi Warren and Mary and Beau Libby; 32 grandchildren; and six great-grandchildren. He was predeceased by his parents, and four brothers, Joe, Ed, Chuck and John.
A Mass of Christian burial was held on Monday, Sept. 26 at 11 a.m. at St. Joseph Church in Bridgton, with interment to follow at Forest Hills Annex Cemetery. Family and friends attended visitation on Sunday from 6 to 8 p.m. at Chandler Funeral Homes & Cremation Service, 8 Elm St., Bridgton.
In lieu of flowers donations may be made to the Catholic Charities of Maine, P.O. Box 10660, Portland, ME 04104-6060. Online condolences may be shared with his family at www.chandlerfunerals.com
Please follow and like us: