George E. Curtis Sr.
LEWISTON — George E. Curtis Sr., 71, of Oxford passed away Wednesday, Jan. 5, 2011 at St. Mary's Regional Medical Center.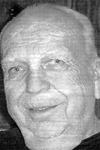 He was born in Clairmont, N.H., June 20, 1939, to Richard and Ila (Mackie) Curtis.
George served his country in the Marine Reserves. He married Elaine Allen on Jan. 16, 1959. He worked in sales for many years at V.H. Ashton in Norway.
He was a member of the Jaycees and the Masonic AF & AM Oxford Lodge. George loved to garden and even tried to grow peanuts. He looked forward to the "Big O" especially horse racing. His grandchildren and great-grandchildren were the joy of his life. He was always tinkering on their radio-controlled cars.
He is survived by his children, Vicki Currier of Oxford, Brenda Marston of Oxford, Pamela Hall of Winslow and George Curtis Jr. of Oxford; seven grandchildren; six great-grandchildren; a special great-granddaughter, soon to be born; sisters, Geraldine Smith of Buckfield and Maryanne Fifield of Oxford; brothers, Daniel Curtis of Oxford and Russell Curtis of Harrison.
He was predeceased by his parents, Richard and Ila (Mackie) Curtis; three brothers, Richard Jr., Harvey and Charles Curtis; and a grandson.
Online condolences may be expressed to the family at www.oxfordhillsfuneralservices.com
Visitation was held on Sunday, Jan. 9, at Oxford Hills and Weston Funeral Services, 1037 Main Street, Oxford.
In lieu of flowers, donations may be made in George's memory to Make-A-Wish Foundation of Maine, 87 Elm St., Suite 203, Camden, ME 04843.
Please follow and like us: