George D. Tracy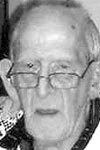 WATERFORD — George D. Tracy, 87, of Waterford, died Friday, Dec. 2, 2011 at Bridgton Hospital.
He was born in Portland on May 8, 1924, the son of Clarence Smith and Gladys Tracy. He worked at Hebron Academy for many years as a dishwasher. He enjoyed television, radio and the Red Sox. He loved Christmas and keeping the sides of the roads clean while taking long walks. He was independent and taught himself to read by watching Sesame Street. George was liked by everyone who met and knew him.
He is survived by Merle McAllister; Gloria Mckee and her children, Nicole and Shane; Keith McAllister and his wife, Crissy, and her children, Adam and Katelyn, a very special friend; Fred McAllister and his family; and Beverly and Joel Martin.
Online condolences may be shared with the family at www.chandlerfunerals.com
A time of visitation was held Tuesday, Dec. 6, from 10 to 11 a.m., with services following at Chandler Funeral Homes & Cremation Services, 45 Main Street, South Paris. Interment followed at Norway Pine Grove Cemetery.
Please follow and like us: