George A. Ward
NORWAY — George A. Ward, 94, of Harrison died Friday, Nov. 5 at Stephens Memorial Hospital.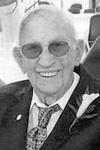 He was born in Bridgton, Sept. 6, 1916, the son of Clarence and Bertha Wadsworth Ward. He attended school in Harrison and graduated from Bridgton Academy. He faithfully served his country in the Army during World War II, serving in the Asiatic-Pacific Theater. He was a Purple Heart recipient and it was presented to him in 2002 by Congressman Tom Allen. George was an RFD carrier for the U.S. Postal Service for 28 years. George was a member of the VFW, Disabled American Veterans and the American Legion. He was an avid hunter and fisherman and truly loved the outdoors. He was very active and had anxiously awaited the moose lottery drawing, even this year. George was a wonderful family man, who truly enjoyed his quality time spent with family. On Sept. 25, 1942 he married Evelyn Kimball, she died in 1994.
Survivors include two daughters, Carol Allard and her husband Kermit of Cedar Falls, Iowa, Nancy Scott and her husband Robert of Harrison; three sons and their wives, George E. and Deborah of Harrison, Dale and Barbara of Waterford and Arthur and Elaine of Florida; many grandchildren, great-grandchildren and great-greatgrandchildren.
He was predeceased by his brothers Norman, Harland and Ralph and sisters Althea Skinner, Dorothy Barker and Arlene Roberts. Online messages of sympathy may be left for his family at www.chandlerfunerals.com
Funeral services will be held Wednesday at 1 p.m. at the Chandler Funeral Home and Cremation Service, 45 Main Street, South Paris with interment to follow at Stuarts Corner Cemetery. Family and friends may call at the funeral home Tuesday 6 – 8 p.m. In lieu of flowers those wishing may make donations in his memory to the Maine Alzheimers Assoc., 170 U.S. Route 1, Suite 250, Falmouth, ME 04105, Androscoggin Home Health and Hospice Care, P.O. Box 819, Lewiston, ME 04240 or to the charity of your choice.
Please follow and like us: