Fryeburg Academy football waits for a drive
By Wayne E. Rivet
Staff Writer
POLAND — As David Turner paced the Fryeburg Academy sideline Saturday, he waited and waited for "a drive."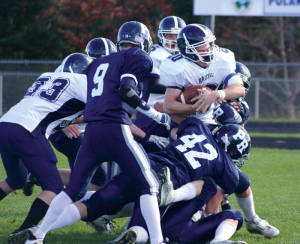 It never came.
Fryeburg Academy's offense sputtered all afternoon, failing to pick up consecutive first downs in any of their 11 drives as the Raiders were blanked by previously winless Poland 6-0 at the Knights' Homecoming.
Poland stuffed the FA running game to the tune of 25 yards in 30 carries, while Fryeburg quarterbacks Ethan Jordan and Andrew Rascoe combined for a 2-for-10 day, good for just 2 yards (one completion went for minus 5 yards).
The Knights were far from an offensive juggernaut, managing 188 yards on the ground, and a 0-for-7 through the air. But, their 10-play, 45-yard drive (all on the ground) to start the second half was good enough as sophomore Tyler Sturtevant scored from 2 yards out with 4:55 left in the third quarter.
A poor FA punt gave the Knights great field position, inside Raider territory. Quarterback Tony Whalen did a nice job with inside ball fakes, and kept the open rush for 12 yards. Sturtevant managed to hit a slight hole fast enough to pick up a yard on fourth down play, despite some good interior work by FA defenders Bobby Ramsay, Tanner Wentworth and Gio DiFazio. In fact, Ramsay was a hitting machine. The FA junior swarmed to the ball seemingly on every down, recording 19 tackles before he injured his ankle with 8:27 left in the game — after making a stop. Although Ramsay would not return, FA did receive good news that #61 did not suffer any broken bones.
Fryeburg had the ball first to start the second half, but a 15-yard sweep to the far side by Kyle Bonner was erased on a holding call. Poland's big hitters — linebacker Conrad Labbe and defensive end Mike Adams — continued to jam any running room, forcing a 3-and-out for the Raiders.
"When they (Poland) are at full strength, they're pretty tough defensively. They're aggressive," FA Coach David Turner said. "We're still trying to find ourselves offensively. We just couldn't piece anything together all day long. We got some turnovers early, but couldn't take advantage of them. That hurt."
Poland fumbled on their first possession at the P-31 as Andrew Rascoe delivered a hit, and Tyler Nadeau recovered the loose ball. But, FA saw a completed pass from Jordan to Bonner result in a 5-yard loss, and Jordan was sacked for no gain on fourth down.
The Raiders hurt themselves on their next possession as a Jordan run for 7 yards was nullified by a holding penalty. FA had to later punt.
"When you are struggling offensively, it seems that the penalties then pile up against you," Coach Turner said. "In a game like this, when you are playing against a similar opponent, you can't have those mistakes. It's something you have to overcome, and we didn't."
Poland made their fair share of mistakes, as well. FA's Ian Sundgren picked off a Whalen pass with 3:52 left in the first quarter to stop one drive, and the Knights were whistled for a delay of game with the football sitting at the FA-1, only to be backed up five yards. That reprieve fired up the Raider defense as DiFazio dumped Whalen for a 2-yard loss on third down, and Ramsay combined with Nate Hill to hold rugged fullback Conrad Labbe for just a 2-yard gain on fourth down with 5:24 left until the half.
Fryeburg had zero success against the Poland defense in the second half — 12 rushing plays yielded minus 3 yards, the lone bright moment being an 11-yard around the end play by Rascoe. FA failed to manage to cross midfield, and were unable to capitalize when the Knights were called for roughing the punter, erasing a 4th-and-20. After Rascoe's 11 yard gain, the Raiders saw the drive end when Sundgren was dragged down for a yard loss on a pitch play by Sturtevant.
Poland had a chance to put the game away as Derek Hanscom returned a punt 18 yards to the FA-33 with 8:27 left in the game. Three running plays put the ball inside the FA-10, but the Raider defense rose to the occasion by stopping the run and forcing Poland into a holding penalty. With the ball moved back from the FA-3 to the FA-13, the Knights attempted two pass plays, which were well defended by Sundgren.
Fryeburg was unable to move the ball in three tries, and had to punt with 4:32 left in the game. Poland ran the clock out as Labbe picked up a yard on fourth down, despite good gang tackling by Wentworth, Kevin Reardon and Brandon Daigle, to keep the drive alive and the clock moving.
As Poland players celebrated their first win of the season, FA Coach David Turner had to wonder what he should try next to jumpstart his offense — an offense that scored 36 points in the opening season win over Gray-NG and has since been shut out five straight weeks.
"It starts with being more aggressive, up front and in everything we do," Coach Turner said.
Up next: Fryeburg (1-5) hosts York (3-3) this Saturday at 1:30 p.m. The Raiders get another team fighting for the playoffs, Greely, the next week at home (Oct. 23) before closing out the season at Lake Region on Friday, Oct. 29.
Please follow and like us: