'Friends of Sebago Elementary' urge 'No' vote; rally brings message to Bridgton
By Wayne E. Rivet
Staff Writer
Denise Olsen never, ever expected to be holding a sign of protest at Bridgton's main intersection.
But, drastic times require drastic measures said the leader of Friends of Sebago Elementary School.
Strongly feeling the budgetary ax could finally fall on their community school if a plan to expand Crooked River School passes, Olsen and others hoped to alert and sway Bridgton voters to reject the $9.6 million project and force SAD 61 to scale back the plan.
"Save our school," youngsters yelled out as vehicles passed through Pondicherry Square.
Several motorists honked their vehicles' horns in support.
"I felt the rally went very well. We had a full spectrum of ages participate — children, teens, parents with children in the school system, parents that no longer have children in the school system, seniors and some that have never had kids go through the system," said Olsen, who is Sebago's Recreation Director. "We received a lot of support from people who stopped to get more information, honking horns, throwing us thumbs up. We found many people actually having no idea that there was even a renovation project happening or how it was going to affect them. We received one thumbs down in the two hours we were there!"
Olsen said there were many reasons why the group held the protest.
"We wanted to make people aware of the project, we also feel CRES can be reopened for a lot less money then $9.6 million and it can be done in a much faster time frame to alleviate the special issues at Songo Locks School," she said. "We also have a difficult time spending money on things like ball fields, pellet stoves and huge auditoriums."
She added, "We would like the opportunity to negotiate with the district a more equitable relationship. If we can get this project voted down, then we have some time to work on the details of such a negotiation. Sebago has felt invisible in the district for many years and we wanted and needed the visibility! It is time the four towns acted as one unit and pay attention to what is going on and take responsibility in getting informed."
Over a dozen people — young children to parents to retirees — held signs for two hours under a steady mist Sunday as others passed out pamphlets to motorists urging a "No" vote on SAD 61's proposed $9.6 million renovation/construction project at Crooked River School in Casco.
Olsen and other protestors strongly support renovating Crooked River School to ease overcrowding at Songo Locks, but they oppose the idea of expanding the current facility to a point that it could also accommodate Sebago students, thus enabling SAD 61 to close their community school.
The "Friends" group would support Crooked River renovation, which past school board discussions pegged work to reopen the facility between $500,000 to $1 million.
"The current Crooked River Elementary School is structurally sound and can be reopened a much lower cost than almost $10,000,000. The current plan is 25% bigger than needed," one bullet point on the "Vote No" pamphlet.
Another read, "The need is great for classroom space in Naples and Casco, and this huge 'showplace' school project takes too long."
The final message, "Bridgton voters, stop higher property taxes! Vote 'No' on Dec. 8."
Group members say a "No" vote will force SAD 61 back to the drawing board.
"There is no dispute that the overcrowding at Songo Locks School needs to be addressed, but the price tag and scope of the proposed Crooked River renovation is excessive. Voting 'No' on Dec. 8 will force the SAD 61 School Board to reduce the size and cost of this project, but still serve the needs of the Naples and Casco communities," the Friends wrote on their Facebook page. "If this referendum is allowed to pass, it will result in the school board looking at closing Sebago Elementary School, which would be another huge mistake — just as it was a mistake to close Crooked River. We ask that you look at the impact to the children of all four towns, as well as the impact to taxpayers in all four towns. Please send this project back to the drawing board for a far less costly and time-consuming answer to the overcrowding issue. Let's re-open Crooked River much more quickly and for millions of dollars less!"
A public hearing on the proposed Crooked River School project will take place on Tuesday, Dec. 1 at 7 p.m. in the Lake Region High School gymnasium.
A referendum vote in the four district towns is set for Tuesday, Dec. 8.
Superintendent under fire
SAD 61 Superintendent of Schools Al Smith expected to field many questions regarding Sebago Elementary and its future — not the Crooked River project — when he attended the Sebago Board of Selectmen's meeting last Tuesday.
And, he did.
Smith gave a brief overview of the Crooked River project, which he did recently in Bridgton, as well. Then, selectmen chairwoman Ann Farley opened a 15- to 20-minute question/answer period with "no sidebar conversations."
As expected, the Q/A lasted longer and at certain points, the conversation nearly reached a boiling point. But in the end, points were made, suggestions made for school officials to consider, and cooler minds prevailed.
"There were some very good questions and points made," the superintendent said. "I was very appreciative that we were able to have a good discussion. I thought everyone was respectful."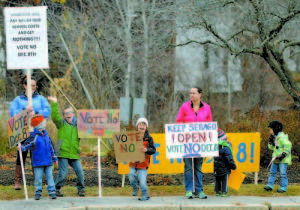 One question was why the district abandoned a previously considered option of renovating Crooked River to reopen the facility quicker and at a lower cost. As proposed, new construction and renovation would likely take two years.
Smith said a recurring comment he has heard in regards to Crooked River is "Do it right, do it once" so SAD 61 does not have to return to taxpayers again.
Crooked River was built 30 years ago, and Smith said many features require serious upgrade to meet current standards (classrooms are 600 square feet, while the state now recommends 800 square feet) or are in stages of replacement.
He also pointed out that construction/renovation will address both present and future needs.
"When you build, you look to meet the educational needs of your children for the next 40 to 50 years," Smith said.
Yes, the price is costly, $9.6 million, but Smith feels SAD 61 will receive very good value considering that the renovation/construction at Stevens Brook Elementary School cost $7.3 million 17 years ago. To date, SAD 61 has spent $50,000 in relation to the Crooked River project (engineering studies, etc.).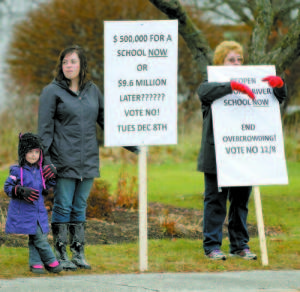 "This is not a Cadillac or Taj Mahal building," he said. Smith also clarified that the district could look to increase the size of the school's auditorium if project bids come in lower than expected.
Then, questioning turned to Sebago Elementary.
The superintendent reiterated "it was never the intention" to build more space and renovate Crooked River so SAD 61 could close Sebago Elementary…I do value a small school."
Mike Foye, a former SES principal, recalled that during his 27 years in SAD 61, the longtime school board philosophy was for elementary-age students to be educated in their own hometowns.
"Has there been a change in philosophy?" Foye asked.
"Not that I am aware of," Superintendent Smith responded.
Despite an engineering firm's recommendation to close Sebago Elementary as part of a facilities' study and a past effort by the state to force school districts either to consolidate or trim expenses by closing facilities, SAD 61 has kept the school open, Smith said.
Selectman Jim Libby noted, "Despite all the denials (regarding closure of the local school), you can understand to us, it is real."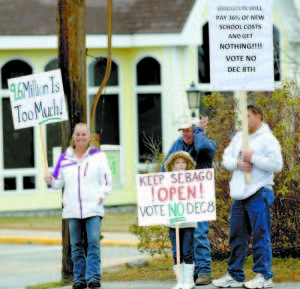 "I do get it," the superintendent responded. "It is not our intention to close Sebago Elementary. If anything takes place, it is a town decision."
Sebago Town Manager Jim Smith questioned why the school district was unwilling to offer up a guarantee that SES would remain open over the life of the bond to pay for the Crooked River project, as requested at the Sebago public forum a few weeks ago.
The superintendent voiced a willingness to sit down with the Friends of Sebago Elementary to work out a "course of action." Right now, however, the district's full attention is on the upcoming hearing and referendum vote.
Former school board member Richard Merritt said Sebago is willing to pay operating costs to keep their school open, if SAD 61 "leaves our school alone."
"We're not asking for a new school," he said. "We're asking to be just left alone."
Olsen took offense with remarks made by the superintendent when he presented the Crooked River project to Bridgton selectmen.
"You don't have a right to be disappointed in us," Olsen said. "We're trying to protect what we shouldn't have to be protecting — our school."
Superintendent Smith said his disappointment was that Sebago made the decision to look into possible withdrawal from SAD 61.
"People make rash decisions and then have buyer's remorse," Smith said. "I have to look at both the educational and fiscal sides at all our buildings. When you are putting together budgets, you have to figure all costs."
Friends of Sebago has started to look at possible options for the town, including running a K-8 school, then seeking to tuition students to other nearby school systems. The group has talked with individuals from Baldwin, whose elementary school has been closed, and whether there is interest there for kids to be educated at Sebago Elementary — something SAD 61 should consider to increase SES numbers, a local resident said.
Regarding increasing the size of the Crooked River auditorium, Dave McCarthy questioned why SAD 61 has failed to address developing a larger gym/auditorium at Sebago Elementary.
"From an equity standpoint, clearly that hasn't happened here," he said. "Yet, you want us to fund these type of improvements at other schools."
Because of the school's student population size, a major addition has not been considered, Smith said.
Smith did clarify to The News last week that a statement made during the Sebago meeting was inaccurate. Regarding whether Sebago students would benefit from newer amenities at Crooked River, the superintendent noted that students across SAD 61 access facilities outside of their hometowns, either for special services or "personal family reasons."
Town Manager Jim Smith reminded SAD 61 officials (the superintendent, as well as a couple of school board members in attendance) that the district could expose young children to harm by busing them along Route 114 to Songo Locks or Crooked River.
"You would be putting some children on a bus for an hour more each day," he said. "You could be putting them in harm's way."
Please follow and like us: