Fresh start — Diner assembled to house A La Mexicana
By Dawn De Busk
Staff Writer
RAYMOND — Like so many toys given as holiday gifts, the new building for a familiar restaurant needs to be assembled.
Three pieces of 1950s-style diner have been trucked in, two of which arrived on Friday; and it will be the new home for A La Mexicana Restaurant. The third section — which contains the kitchen — was on its way to Raymond on Tuesday evening.
The diner should be fully-functioning and ready for customers by February.
A La Mexicana restaurant has been in business for more than five years at the property between the Raymond Shopping Mall and the Salvation Army Family Store building.
However, a fire on April 19 did extensive damage to the building where the business A La Mexicana was located.
Later, the old building was demolished, leaving only the concrete foundation.
Instead of building from the ground up, a diner is being delivered.
"We are setting a 1950s-style diner at the site where we demolished the old building," according to property owner Laurie Mason.
"It is a modular diner that is coming from Piketon, Ohio, on three large truckloads, to be set with two cranes," Mason said.
The objective is to have A La Mexicana "back in business by the end of February," she said.
To view the diner being trucked to its new destination, check out YouTube video entitled, "32 Diner Moving to New England."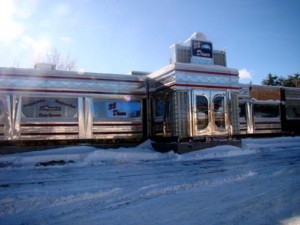 Please follow and like us: